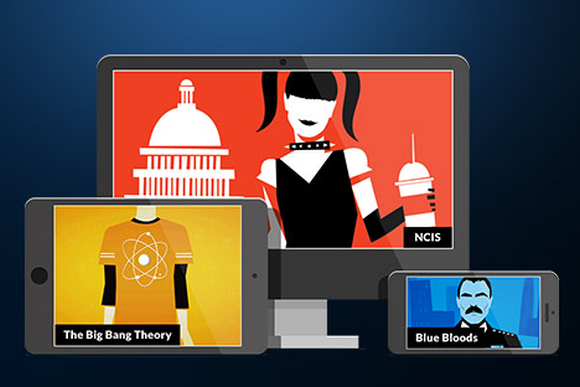 CBS
As reported earlier, CBS is planning on producing a Star Trek series set to be seen in early 2017. The premiere will be available on CBS, while the rest are exclusive to CBS All-Access. But, what even is CBS All-Access?
The situation is strikingly similar to when Yahoo! Screen picked up Community to me. In both situations, I was very much aware of the streaming service, but many others probably would not. In
fact, CBS All-Access has grown in awareness substantially today only, through the announcement of the news and post-announcement articles like this one.
Shows Available
In addition to CBS's current prime time lineup, the following shows have been made available through CBS All-Access.
90210 (the one that aired on FOX through the entire 1990s; interestingly enough it was produced by CBS, hence why they have the rights to stream it)
The Brady Bunch
CSI
CSI: Miami
Cheers
Everybody Hates Chris
Family Ties
Frasier
The Game
The Guardian
I Love Lucy
Jag (the predecessor of NCIS that NBC gave up on after one season before CBS picked it up)
Jericho
Macgyver
Medium
Melrose Place
The Mentalist
The Millers
Mission: Impossible
Nash Bridges
The Odd Couple (the one that started in 1970)
Perry Mason
Stalker
Star Trek
Star Trek: Deep Space Nine
Star Trek: Voyager
Star Trek: The Next Generation
Taxi
The Twilight Zone
Twin Peaks
Two and a Half Men
Wow. That's a lot of shows if you ask me. CBS has made available most of the above shows in their entirely, though not all (for example, 60 Minutes starts at Season 41, just in case anyone was planning on doing a massive binge on the 48 seasons). Additionally, a certain number may be watched for free (typically between 2 and 9 episodes, from what I've seen). So, what will CBS do with their streaming service, which currently costs
$6/month after a one-week free trial
once the premiere of the new Star Trek series comes closer?
Ways to Watch
By purchasing CBS All-Access, the episode will be available the next day, just like for the free service. However, certain areas (usually if you live somewhat close to a city) let you stream the episode LIVE by using the service. Additionally, streaming the episode via a Chromecast, Apple TV, etc is no problem.
Theories of How CBS Will Start Treating the Service
Reportedly, Yahoo! lost a ton of money on purchasing Community, which turned out the be a massive disappointment. I'm sure CBS wants anything but that, especially considering they are about to make an extension of sure a legendary franchise. Here are a few options that I would throw out there for everyone to think about in order to optimize the probability of the show being a success:
Option #1: Reduce the Price or Make the Service Free Around the Time It Premieres
In my mind, this would let even more people sign up for the service. If I'm only interested in watching the new Star Trek series and nothing else, I may not want to pay $6/month and may just wait until the series in its entirety is released, and watch it during my one-week free trial. Having a sale on the subscription service leading up to the premiere would certainty up awareness for the service and let CBS make a profit, I think.
Option #2: Air Another Show Exclusively on CBS All-Access
Again, people may not be willing to pay for the service if they are interested in this one show. Perhaps try airing another drama, or even a comedy, on the service? I would especially advocate for doing a remake or revival of a show exclusively online. Any suggestions?
The four existing Star Trek series on CBS All-Access must be doing relatively well for them
considering they are going to make a new one. I also think it's a great idea to premiere it on the actual television to raise awareness.
It seems like CBS is trying to compete with the likes of HBO in the streaming service battle, which reportedly sees an unbelievable increase in viewers online (more on that later). I'm intrigued by the strategy, and truly think it may pay off. We may be witnessing the future of scripted television series, everyone.
Share this