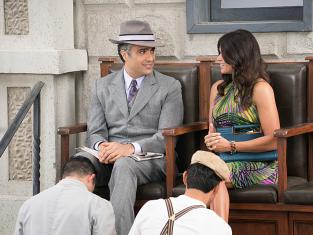 TV Fanatic
Things are going great for Jane and Michael, so they are obviously going to stay that way, right?
S2E19 "Chapter Forty-One"
At the start of the episode, seven-year-old Jane insists on saving her money, even though Xo insists she spends some of it. In the present, Michael encourages her to spend some money on Mateo. Everything is going well for them, which means that something must go wrong, which comes in the form of a newspaper article accusing Michael of being a corrupt cop. Xo considers auditioning for a role in Rogelio's show, and Rafael talks to Jane about going to lawyers to determine the specifics of who takes care of Mateo when. Jane makes the large purchase, but Michael comes home and tells her he got fired.
Jane picks up more shifts to make more money, and has to train Petra's sister, which is hilarious. She also ends up making a thousand dollars helping someone write a college essay, which she hilariously calls "a fun Saturday". Rogelio says he will give Xo the part, but Dina is upset about this. Jane and Rafael make an appointment, and it ends up getting tense.
Rogelio and Xo run their scene and it is so historically inaccurate. Also, Xo is terrible at acting, and keeps messing up, which is also hilarious. Jane meets with the student who she is supposed to help write his essay, but it turns out she's actually supposed to write it for him. Petra goes to Rafael about the trust, and he admits he doesn't trust her as much as he trusts Jane, and with good reason.
There is a hilarious joke about Petra's sister marrying the salt shakers, and Jane realizes that she may be getting in Mateo's way when she sees a mom get in the way of her son's passion. Petra ends up talking to her sister about Jane. Jane feels like she is prioritizing other things over Mateo, and she really doesn't like that.
Jane and Michael talk, and he tells her that he got a job. He is Rogelio's chief of security. Petra's sister attempts to get Jane into trouble by sending a message supposedly from her to the university, about advertising her essay writing business. Rafael's brother calls someone saying to "take him down" after talking to Rafael.
This was a really good episode. There were some really funny moments, though some storylines fizzled early on, such as Xo's, and some escalated much later, like Petra's.
What did you think of "Chapter Forty-One"? Leave your thoughts in the comments!
Share this