Written Soused in Delight by Bridger Cunningham
Mom entered its penultimate syndication with season 4. And it delivered with spiritual clarity as one of this season's best sitcom entries. Mom will strike a match at the syndication finish line, having been a nail-biting bubble show during its first season. Saddled with the lousiest 9:30pm Monday slot that year, it stood in direct competition against aging Two and a Half Men and Thursday charmer The Crazy Ones. The aging Men received a final season order, and CBS decided to nurture its lowest-rated sitcom in favor of TCO. CBS gave Mom a plum opportunity to grow following ratings juggernaut The Big Bang Theory, allowing it to soar to heights of a series high 2.8 demo rating.
Flash forward to 2016, and season 4 held with steady performance. Initially a mixed bag of triple-generation dysfunctional family with a dash of Christy's work environment, the show evolved to the core of Alcoholics Anonymous as it focused on the damaged ladies of AA. The dynamic works, in spite of three (and a half) of the five women actually being a MOM. Ratings eroded, yet the series pleasantly made a last-minute entry as the 10th-highest sitcom of the 34 entries this season. Let's look back at the good, the bad, and the just plain ugh!
What Worked Beautifully --
Hands down, the chemistry between Allison Janney and Anna Faris carries this show through the valleys and laurels. Bonnie and Christy are the modern day Bundys. They are both addicts and suffering the consequences of choices past. However, their true love prevails. Just like the at-risk fellow crass-com 2 Broke Girls, the leading ladies' chemistry drives the show. Their premise has never strayed. Bonnie was the reckless mess who spawned a white-trash family tree with low-class tones. Christy resented her mother's messy existence, yet repeated the cycle. Both embody the brittle love-hate dynamic real-life messes Debbie Reynolds and Carrie Fisher created in their 60 years together, yet became each other's best friend and rock. Cue the Postcards From the Edge references....
Season 4 gave both a welcome delivery of stability as they each experienced (refreshingly) positive developments and character growth. Christy is outgrowing her wash-and-wear demeanor as a recovering addict in favor of a refreshing middle-aged college student, whilst Bonnie is learning at "52" how to exhibit a maternal delivery. They continue their trite jabs and dialogue, yet have etched enough character development to root for our latest heroic mother-daughter duo. The same tawdry past-life jokes line humor. Yes, Bonnie was an experienced criminal, and Christy wore pasties with tassels to earn a paycheck. Yet both have a healthy recognition of progress to line their colorful stories in to demonstrate depth and growth in 4-year aged characters.
Mimi Kennedy's presence as the resident "mother" Marjorie is welcome and pleasantly unchanged. Her triumphs included being the voice of reason as her four fellow AA pledges had an accidental slip via pot cookies. And more dramatically, her despair over her sponsor losing sobriety after decades. Bonnie berated her own root of addiction mother by spitefuly stating "[She] is the mother [I always wanted]. But don't tell her that." Beyond this powerhouse trifecta, Jaime Pressly upped the ante by not only sporting a lovely new look (the first new hairdo to be sported in the show's history!), but also toning down Jill's wildcard antics into a serious exploration of motherhood.
Initially a damaged trophy wife, Jill resembled only a monied version of Jaime Pressly's comically rich characters. However, her character's arc over desired motherhood made a welcome arc of flimsiness, then rooted with heartache over an early-term miscarriage. This plot progression led to glamour-puss Jill compromising to fulfill her yearning with fostering a refreshingly plain teenage foster daughter Emily. Emily made a scant two-appearances, yet her impact on our core character was felt. In one powerful episode, Jill experiences the not-so-glorious ride of raising a teenager, propelling visions of failure. Yet her stoic daughter simply said "You're doing okay."
Jill's latest development pays a welcome tribute to "less is more" as Julia Lester helps tone down Jill's colorful antics as Emily. The love and grit is evident in the fledgling mother-daughter relationship as Jill has common gripes of mothering a teenage daughter. And it afforded a cameo from powerhouse Missi Pyle as her addict mother. Yet Jill's most poignant scene involved one of the two best episodes this season, as she is the voice of reason against grieving/writing Bonnie when her mother dies. Mom has built a tone that one tragedy exists in each season. The freshman season featured the poignant moment which Violet (Sadie Calvano, remember her? She is still in the opening credits!) gives her daughter up for adoption. Season 2 feautured the heartbreaking death of Alvin (Kevin Pollak), coupled with Bonnie's relapse into addiction. And season 3 featuring the unforeseen death of recovering heroin addict Jodi (Emily Osment).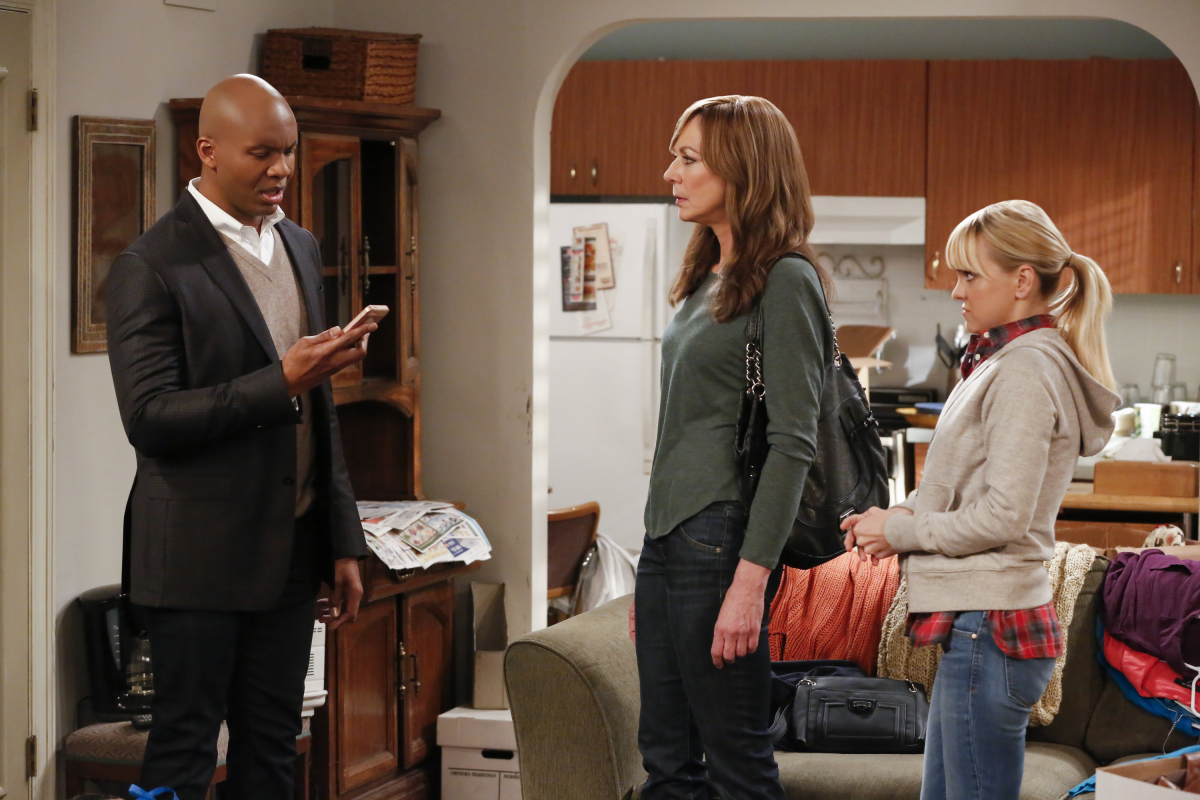 Season 4's death was less tragic, as Bonnie's loathed "mother" Shirley (Ellen Burstyn) died late in the season. Shall we chant "Ding dong, the witch is dead and her ashes rest in Smoo's fireplace?" Everyone but Bonnie grieves, and the antics escalate into outlandish as she discovers he has a successful black brother. Yet Jill anchored in the grief-cue as she approaches Bonnie and encourages her to write a letter to her mother. In a beautiful monologue, we learn what fueled Bonnie, as she read a letter which first denounces her mother, then reconciles her vicious mother is not to blame for the course of actions her life took.
Season 4 could have left the tearjearker factor put with this powerful delivery, yet they etched a new layer in Christy when a new AA member jars Christy as she remembered him as "Viceroy Lights." The vile beast who defiled her on a drug/alcohol fueled evening. This engrossing episode featured a pesky cricket disturbing the peace, as well as a disillusioned Marjorie giving up on the group. However, when Christy destroyed the apartment hunting for the cricket in displacement, she confronted her tragedy in a poignant amend:
"
Sixteen years ago, I was sexually assaulted. You know what? Forget 'sexually assaulted.' I was raped. That's the first time I've ever called it what it really was. Mugging victims aren't ashamed they were robbed. Why should I be ashamed that I was raped? What I am ashamed of is that I kept it a secret. This guy counted on me being too embarrassed and afraid to come forward, and you know what? He was right. And so tonight, I would like to make amends to any woman that might have been hurt because I was too scared to say anything. If my silence encouraged him to believe that he could attack, or intimidate, or even grab another woman without consequences, then I am so, so sorry."
We would have welcomed Bonnie bashing the bastard's craniums with a crowbar, yet Christy struck the fatal blow with this powerful exchange. These sour colors leave us committed to Mom's recovery, as it soared higher in the ratings that week. The serious undertones hit a cord, yet the lighthearted antics shined just as well. The ladies accidentally ingesting Adam's pot cookies was a hoot and a welcome relapse. The ladies despaired as they lost their valued sobriety, yet rejoiced when sage Marjorie said they could technically get a free pass as they had no intention of straddling the playground high.
Even greater a treat, a guest-star cameo from Brad Whitford as Adam's hard-partying best friend left our crazy leads as the voice of reason, shrugging at the intoxicated guests' sloppy antics. Rather than preach, the ladies dispensed the nuisances in comic fashion.
What Did Not --
Mom's continual flaw is its imbalance in its cast. Initially in too many places at once during season 1, the writers wisely back-burnered the restaurant as its purpose faded. Mimi Kennedy's addition to the cast was wise, and Jaime Pressly struck scene-stealing gold as a departure from her trashy roles. But Beth Hall's presence has remained underdeveloped as Wendy. William Fichtner crackled when he filled to male vacancy in season 4 as paraplegic Adam, yet has faded with progression. In the throws of the ensemble's transition to "the AA ladies", Christy's family fell on the backburner. Matt L. Jones, Sadie Calvano and Blake Garret Rosenthal finessed their way through performances as Baxter, Violet and Roscoe, respectively. Calvano made one scant performance this season, while Rosenthal and Jones made three appearances of 22.
If they are being phased out, it is understood. But remove them from the starring cast and update the opening credits! Hall's role in the show has been on display, yet all we know about Wendy is she is a mean nurse and she likes to cry. Is she even a "Mom"? If this show nails down the ensemble and explores "mothering" issues more laced with AA, it will be perfection!
Issues Beautifully Tackled --
The sexual assault issue was indeed topical, but other issues were explored which hit home with all viewers. Grief again was explored, along with pre-teen experimentation with substances and Anger made a nice figurative issue. Rather than preach Roscoe's dabble into pot and beer, Bonnie took the helm and discussed the roots of what undid her life and Christy's. Christy's foray into college life also beautifully tackled common struggles for adults advancing careers. Jill's mothering desires also explored a roller coaster of fertility, miscarriage and the risky fostering system. Mom continues to be topical and thankfully has the laugh trach to interrupt downbeat moments.
Excellent Guest Stars --
Rosie O'Donnell, Wendy Malick, Missi Pyle and Brad Whitford marked several hallmark performances. We welcome them back in greater development.
Mom returns next fall, likely to Thursdays. Join us, and hopefully join us for syndication on your local affiliates!
Share this