Written in Solitary Awaiting a June 9 Release by Bridger Cunningham
Behold, viewers are 10 1/2 days away from the official release of Orange is the New Black, which has amplified its game following last year's titular last moments of Season 4. Leaked footage has been slurring throughout the internet over the last month as an internet hacker released the footage as Netflix refused to pay the ransom. This site will not feed these troubled soul's attempts at attention and monetary gains at others' downfalls. Internet hackers are the terrorists of the 21st century, waging a passive aggressive war on society's simple pleasures. What these embattled individuals forget is Netflix encourages people to view at their own pace. Whether eager viewers take the day off of work and binge on June 9, or wait until next February, paid subscriptions to the streaming service will not falter.
The only developments for this season which will be discussed are that of OFFICIAL trailer releases from Netflix. This site respects the entertainment industry's production costs and the standards it needs to survive and deliver us entertainment. TV Ratings Guide chooses to encourage folks to follow the entertainment schedules in order to assure favorites upon official releases, not pirated or sneaking a speak to fulfill selfish pleasures. This is no different than a child sneaking cookies before eating dinner. It is immediately satisfying, yet spoils what could be a wonderful dining experience. Let's eat our OITNB desserts after a proper banquet and experience. Dinner has not been served, yet the chefs at Netflix have given a taste of dessert by allowing eager viewers to lick the bowl before the cookies come out of the oven via this official trailer: https://youtu.be/NzJATbm8U98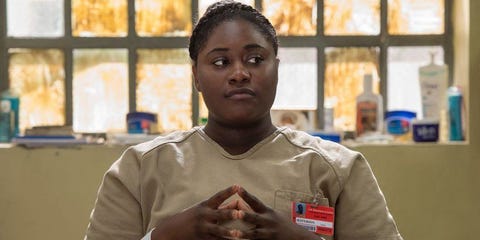 Viewers still have those final moments of the last season featuring Daya (Dascha Polanco) pointing a gun at corrupt Detention Officer Humphreys' (Michael Torpey) head. It is time to retire that image, as it has played out. The trailers appear to dissuade from Daya shooting Humphreys, a wise choice by writers to further creative fuel. What has emerged, however, is the prisoners "are on strike". Comical, as their rights were stripped at incarceration. Great dynamics are emerging, as the prisoners appear to be poised to shine light on the ugliness of the system. The shining stars from the trailer are Danielle Brooks (Tasha 'Taystee" Jefferson) and Amanda Stephen (Allison Abdullah). Taystee cleverly declared "We are stuffed four of us in bunks like chickens", paying homage to why Joe Caputo (Nick Sandow) declared he picked her as his secretary as "she has half of a brain."
Taystee has developed nicely from her boisterous demeanor from Season 1, having deliberately returned to jail. Season 2 featured a dual development as she not only labored to create an image/life for herself outside of prison, but became emotionally entangled in prison vice boss Yvonne "Vee" Parker's (Lorraine Touissant) deadly web. Having lain tow the last two seasons, it is time to catapult Taystee onto the front burner again. Given Maria (Jessice Piemental) used aggressive force to further prisoners' rights in Season 4, Taystee's non-felonious approach may help deviate the tone from a cliche prison right and lockdown.
Taystee's tone is warranted at shining light on the sewage-filled conditions in the prison. OITNB, however, appears to be veering into Norma Rae territory as depicted by that trailer. Playing a refreshingly prominent role is Allison rallying prisoners for collective grievances. Given she is the only (known) Muslim inmate by her visible burka, Allison is visually prominent in advertisements and appearance. Allison was used as side fodder in Season 4 as she was one of the unwelcome transfers in the prison overcrowding arc. She of course engaged in a superficial feud with recent Jewish convert "Black" Cindy Hayes (Adrienne C. Moore), and upped her prison capital as she hides contraband cellphones in the toilet tank. Others marinate toilet wine for dinner; she harvests much-desired communication. Given the controversial association the Muslim culture has with extremist groups in the world, it is refreshing to see perhaps a criminal show such as OITNB can depict a peacemaker from this demographic.
The black subculture took a backseat following the prison vice arc in season 2 and deserves shelf space in a juicy arc. From the trailer, it appears Maria softened her crime lord status, calling prisoners from all groups to unite. The black-centric focus is also prevalent in showing an infirmary-bound Suzanne "Crazy Eyes" Warren (Uzo Aduba) digests the after-effects of being forced to chicken fight spurned lover Maureen Kukudi (Emily Althaus). These women experienced the greatest injustice as the guards forced them to fight like chickens to the death. In a refreshing twist, increasingly diminished Piper (Taylor Schilling) noticed the ensuing trouble and turns the other way. It's about time, as Alex (Laura Prepon) keeps warning her to "Stay out of other people's s--t."
But of course, Piper appears to be returning to her social injustice reporting, videographing the developments via phone. The longer the show exists, it moves further into a rabbit hole of darkness, and it appears the comedy may be sacrificed. This change may be warranted for the show's continuation or overall creative arc to wrap the show up at masterpiece standards. So what can viewers expect from Season 5? A compressed, compelling arc added to the storytelling. Season 5 is a game-changing bold stroke, which will either re-ignite the creative fire or stifle it with the ashes of past seasons burned over.
Given plotting or exploration can fade with any great series, minor reboots are needed to inject life into tired premises. Desperate Housewives did this in 2008 with a much-hyped 5-year time jump in the story. Grey's Anatomy went big and broke our hearts in 2012 by killing off Dr. Lexie Grey (Chyler Leigh) and Dr. Mark Sloan (Eric Dane) in the heartbreaking season 8. Over in the comedy arena, 2 Broke Girls departed bleak poverty tones mid-season 5 in 2016 and sent the girls on a lavish Hollywood adventure. And Cheers faced the loss of Shelley Long in 1987, scrambling to reinvent the tone the following season 6 with Kirstie Alley's entrance as the show burned nuclear in the ratings.
The results? DH enjoyed the initial kindle of speculation and a rewarding season 5. Season 6 stifled the thunder with two forgettable mysteries, gradually hastening the show's departure in Season 8. The time jump may have suited Season 6 for longevity, as the show was firing on all creative cylinders in season 4 and emerged fairly unscathed from the devastating 2007-08 Writer's Strike. Grey's Anatomy set up the rebranding of Seattle Grace to Grey-Sloan Memorial, ensuring the show's continuation if Ellen Pompeo (Dr. Meredith Grey) chose to exit the series. The move paid off, as the show has continued to deliver powerhouse ratings and a valid premise 5 years later. 2 Broke Girls finished season 5 with creative finesse, then burned off their newfound energy the following season, ending in cancellation. And Cheers created its second arc, centering around the will-they/won't-they of equally vapid counterparts Sam and Rebecca. The series rode the Nielsen current through the top 10 into 1993, making their reboot a success.
In order for OITNB to become a success with this reboot, it will need a dramatic, impacting event to close season 5 and leave us wanting to return next summer. If the ladies break down the wall and take another swim in the pond, it will further disbelief similar to DH's plane crash on the street or 2BG's forgettable adventure in Season 6. Both events left viewers tiring of the premise, and ratings tanked shortly after. OITNB's reboot has promise, so let's eagerly serve out our 10 1/2 day sentence until it is officially released on June 9.
Share this