Written Throwing in Two Cents by Bridger Cunningham
It was the devastating news fans hoped to dodgeAn outcry from fans of 2 Broke Girls made the hills run red with blood-curdling screams late Friday as CBS announced they had cancelled the series after 6 seasons. The outsourced Warner Brothers production debuted on Monday September 19, 2011 at 9:30, behind the hype of returning Two and a Half Men minus Charlie Sheen to a landmark 7.1 18-49 Demo debut. The show moved to its 8:30 home the following week, ending a strong season with a 4.4 average. The show retained most of its average in its 2nd season with a 3.7 rating, despite losing Two and a Half Men as its follow-up and making a 3rd move to 9pm.
Ratings remained strong until the opening of the 3rd season as the struggling We Are Men siphoned Monday viewing patterns. After being cancelled 3 episodes in, 2 Broke Girls was moved for a 4th time to its former 8:30 timeslot, following a plum final season of How I Met Your Mother. Wedged between HIMYM and Big Bang Lite (repeats of CBS juggernaut TBBT), 2BG lost overall viewers, yet inched up to a 3.8 demo. Following HIMYM's series finale, 2BG made its 5th move to 8pm, leading the CBS comedy block over its 4th season.
Due to declining interest and a later start date on October 27, 2014 to accommodate Thursday night football (CBS gave this plum startup slot to TBBT), ratings eroded to a 2.6. The Ferguson Unrest cut live programming on November 17, 2014, bringing a then-series low 1.5 Demo for the 4th season's 4th episode due to broadcast preemption. Erosion continued, and CBS opted for another mid-season premiere for season 5 premiere on Thursday, November 12, 2015 at 9:30pm. The 6th move continued to grind down demo performance, followed by a questionable 7th move to a then uncharted Wednesday 8pm timeslot in January. 2BG made its 8th move back to Thursdays at 9:30 as the show hit a creative renaissance with the ladies' Hollywood adventure.
2BG finished its 5th season with a softer 2.3 Demo, and made a 9th move back to 9pm on Mondays season 6 with a respectable 1.7 Demo debut. Season 6 episodes 1-15 ranged between 1.2-1.7, and CBS moved the show a 10th time to Mondays at 9:30. Episodes 16-22 aired sporadically throughout the schedule, averaging between 1.0-1.2. The damage was considerable, as the season's average dropped from 1.40 to 1.30 by the April 17, 2017 finale.
It is evident CBS treated the outsourced show as an afterthought through 10 moves. CBS valued its durability to handle undesired scheduling, as evident from Season 5-6 scheduling. That should speak volumes of value, yet left fans irritated their show was being shuffled around like a single guest at an event being moved for another favored party. Scream at CBS and assign blame, yet network policies and politics are not solely to blame for the show's declines. Writing and plot pace was uneven during many endeavors, starting in season 3. The girls' humble cupcake window made a welcome character-driven twist. Yet an unwelcome soap operatic pastry school took the action away from the window and much of the diner during this plot development. Max took up with dumpster-dwelling student Deke Bromberg (Eric Andre), and Caroline entered into a forgettable romance with French Pastry Chef Nicholas Saintcroix (Gilles Marini).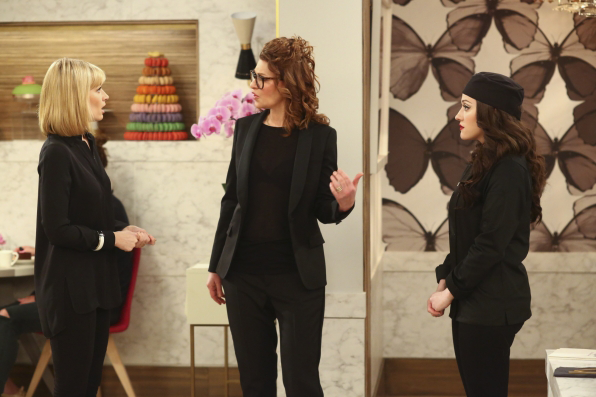 The pacing returned to normal in season 4 as the girls not only focused on their mildly successful cupcake window, but also a light-hearted chic cupcake T-shirt endeavor. Caroline (Beth Behrs) shed her signature long locks and showed character progression as she parted with her former upscale lifestyle. After this plot met its shredded ending in the textile, the ultra-broke girls landed in an upscale bakery, The High, in a welcome plot development. Anchored by the comic prowess of Sandra Bernhardt as Joedth, the distracting tale's rewarding endgame was when the girls realized they already achieved their dream, even if it was not succeeding.
Season 5 continued on the same creative momentum, yet the supporting cast slipped into caricatures of their former selves. 50-ish Sophie Kachinksy (the ever sultry Jennifer Coolidge) embarked on an outlandish quest to get pregnant, catalyzing the shows' departure from reality to outlandishness. And the jokes evolved to recycled and trite. Oleg (Jonathan Kite) was gross, Han (Mathtew Moy) is short, Earl (Garrett Morris) was always high. Then, the writing upped the ante mid-season. This was likely due to fellow outsourced production Mike and Molly being cancelled mid-season. Suddenly, Caroline's backstory was explored, and the girls were rewarded with an upscale story revolving around her movie in Hollywood.
It was as though the writers recognized the series could end that season and worked to reward viewers in a bookend fashion. Great writers recognize they should write as though their production would end that season, and season 5 executed this with an entertaining departure. The girls finally attained their goal of $250,000 via Caroline's movie deal and moved fervently toward opening up a cupcake dessert bar. Sophie finally became pregnant (!), Max (Kat Dennings) met her true love Randy (Ed Quinn), and it appeared even Han was going to get the girl if he was willing to explore the back door options.
Season 5 ended a near masterpiece in spite of wear and tear, building up to the rewarding 6th season premiere. As the bar opened, the girls loaned Han $30,000 to keep his diner afloat and humorously demanded he don a loathed yellow uniform. Sophie delivered her baby, and the girls appeared to have their hands full with story potential. The problem rest with not only lost plot opportunities, but a rapid departure from reality. The girls owning a stake in the diner had enough fuel for 8 episodes as they balanced their finances, yet was washed out in a mere two episodes. Such a lost opportunity made the girls' seemingly relaxed attitude toward money undid the beautiful premise of the women gravely fighting off poverty knocking at their door. The tone established in steel was no matter what grave monetary issue they would hit, they would be okay as they would claw their way back. That was lost in a plot-driven hurricane.
The Hollywood arc's success inspired a not-so-successful departure arc, catalyzed by a hurricane damaging their new jewel. Rather than exploring rebuilding the bar at poverty's mercy, the girls embarked on yet another forgettable soap opera as Max chased after ex Randy. First on a doomed plane ride which they lost their possessions, then on a forgettable riverboat. Then somehow Kat Dennings and Beth Behrs were left suspended on meat hooks during a zombie extra shoot. The reward? Max and Randy broke up, and life went back to normal in Williamsburg, as though the whole debacle was a dream.
The hurricane alone would have sufficed as a 4-episode arc, as it would have mined comic barbs with the occupants stuck in the diner for 2 episodes. And the devastating aftermath would have presented the ladies with a trying financial arc to rebuild their beloved dream. All opportunities were flushed into the sewers by lackluster writing.
The girls apparently endured little financial damage, as business went back to normal at their Dessert Bar with the only thing left messy from the hurricane was Caroline's hair. This undermined the impact of their previous escapades' failures, as previously viewers' hearts broke realizing they were in for a long road to recovery and enjoyed the women bouncing back with attitude and wisecracks.
The remainder of the 6th season presented one unforgettable adventure after another as though the series already had a renewal in hand. Even Max's father was glossed over as a plot adventure vs. a character enriching experience. The previous season showed Caroline disrobing from Chanel to her diner uniform (inherently more obscene than any line of lingerie). That moment enriched Caroline with her "This is me" monologue as she embraced her new life. The thrown together, lazy writing this season was foolish, as it appears the writers and Warner Brothers were playing chicken with CBS in the middle of the road. The problem is that CBS had eight spaces available for sitcoms with several mildly successful entries in place.
Had they focused on writing the season as though it again was 2BG's last, the ratings may have stayed at 1.2 or above. 2BG's 10th move demonstrated it did not hold up the demos as fellow outsourced productions TBBT and Mom did, but rather rode the ratings wave of the night. Ratings may have conveyed in the same fashion, yet the viewers would have been rewarded with a well-written ending. Instead, they were left disappointed as the girls reached poverty again when Caroline's formal dress was ripped to shreds. The dress farce fell flat contrasted against Sophie's wedding dress, which was deliberately written as tacky to viewers' delight. A disappointing letdown, as too many elements were left hanging. A last minute press release discussing Season 7 plot developments appears to be in vain, only making CBS' decision difficult.
Everyone blames CBS, but the timing demonstrates CBS did make efforts to accommodate. Had CBS had it out for 2BG, they would have axed it at the finale or mid-season. CBS is a business. They have six renewed sitcoms, three of which will evidently carry them to 2019. They also have three pilots with promise, regardless of reviewers' opinions. And CBS holds limited potential for opening up another hour of programming, as the network appears to dominate stability of the five primetime networks with scheduling its six evenings. Networks also recognize a new source of revenue is in-house productions making it to syndication, meaning CBS no longer has to be held at the wills of WB or Chuck Lorre.
ABC holds the same dilemma as they are feverishly working to foster in-house productions over Sony, 20th Century Fox and other outsourced offerings. Earlier this week, a controversial cry belted as Last Man Standing was cancelled. Fans argue the show was "winning its timeslot" and "was scheduled on poorly-rated Fridays." However, do the math. The show averaged a 1.16 Demo for the 2016-17 season, making it ABC's 7th highest-rated entry, inches behind fellow 20th Century Fox production Fresh Off the Boat. FOTB airs in a difficult timeslot against NBC Nielsen Titan This is Us, and also has 29 episodes to reach syndication and rebuilt part of a problematic night for ABC. Its marquee stars have cheaper salaries than LMS' Tim Allen, making it the choice for renewal. FOTB will carry ABC into 2019, whereas LMS will need down-to-the-wire negotiations each season.
Networks survive from advertising revenues from the coveted 18-49 Nielsen Demographic ratings. Curse the system, but it does create black and white monetary measures to keep the network lucrative. 2BG weakened like LMS, with recent entries matching their ratings. Broadcast Networks have the stance this decade relaying "If outsourced, aging production blood built this network, then we shall bathe in it!" Networks turning their backs on outsourced productions feign minimal cries from these studios, as they still have cable and alternative platforms to display their artistry.
In parting, lest pray outsourced productions heed these cancellations and learn from their mistakes. Keep the writing crisp, and write every season as though it will be their last. Premium-priced actors gain initial attention, yet fade with time. Keep it organic, as new writers and actors deliver the moxie and energy for new directions and change in viewing tastes. The Big Bang Theory featured a group of then-moderately successful actors who mined their potential to greatness. Keep the writing consistent, structured and have a clear direction on where to carry shows in advanced seasons. If writers are languishing or tiring of writing the premise, bring in new life to keep the premise inventive and creative. And take victories where due, as outsourced shows such as Mike and Molly, Last Man Standing and 2 Broke Girls making it to six seasons is a blessing we enjoyed.
Share this