Written Reveling in Wicked Seduction by Bridger Cunningham
Relationships suck. You're The Worst embraces this dumpster fire (or more accurately, couch fire) and explores the messy, uneven navigation that is love for 30-somethings with issues. Pour on the booze, peppering of illegal narcotics and an overdose of mental problems, and figure out You're The Worst. Anyone who knows the dating world beyond the age of 25 knows it is a treacherous jungle full of unsightly mates, a plethora of mental problems, schemes and plots. Save for the unsightly attributes, You're The Worst is the definition of the horrors of dating troubled souls. And that is why it is a refreshing delight. Every character is dastard and damaged. Their goals are fleeting and a filibuster of age-inappropriate behaviors. And somehow, they make life work.
Before delving into the rich tapestry this show has created, take a moment and catch up on Hulu as now is the window of opportunity to get to know the series. Hulu offers a great array of current shows and allows new viewers to catch up on great series such as You're the Worst. If viewers can get past the haughty, crass antics of the characters, they will find a show rife with clever dialogue, stylish visuals, events and traditions to keep the breakneck pacing steady. Nearly every episode opens with a tantalizing visual of Edgar cooking up a culinary delight with the action set against Jimmy's ultra-posh home in the Southern California hills. Binging on the 36 episodes already produced will bring viewers up to pace at the right time to jump into FXX's anti-comedy, which delivered multiple plotting punches at the conclusion of Season 3.
The praiseworthy series returns for season 4 on September 6 with a one-hour premiere, having stacked 36 episodes during its previous 3 seasons. In that time, the disjointed breakneck pace managed to squeeze in a threesome, group sex, turkey baster insemination, two marriage proposals, an abortion, two weddings, a birth, a death, two complex explorations of mental illness and an overdose of toxic characters. Even "normal" characters such as Becca and Vernon have no room to throw stones as they are just as messed up as the principle cast. Some shows take 6 lengthy seasons to pack this punch as You're the Worst binges on life's ugliness faster than the narcotics Jimmy and Gretchen flaunt with recklessness. And through that unorthodox pace emerges a realistic one-year period for a group of fast-paced Southern California thirty-somethings.
The opening hook is a macabre, picturesque view of what everyone is supposed to aspire for when building a dream. A shiny blonde bride, a handsome groom, upscale guests and a lavish ballroom, a thinly veiled vision of hell. Enter Jimmy Shive-Overly (Chris Geere), the ex of the bride who receives a disgraceful exit after callously telling the bride they have not made love for the last time. Following his current is the slinky redhead Gretchen Cutler (Aya Cash), attracted to the trouble having stolen a wedding present. After a refreshing and direct exchange, they engage in what would be the first of many intense and visual encounters. Love at first sight? Get real. They dismiss the encounter as something straight out of the Wedding Crashers, unaware they just cracked the globe of a delicious tryst. Gretchen and Jimmy refused to acknowledge the obvious their misfit personalities created a tantalizing Morticia and Gomez complex. He is narcissistic, she is self-destructive. Apart, they are a mess. And somehow, they crackle together and bring out each other's best.
Taking second fiddle to Cash and Geere's captivating deliveries is Desmin Borges' Edgar Quintero, Jimmy's housemate who is digesting PTSD effects as an Iraqi War Veteran. Gretchen's vapid best friend is Lindsay Jillian (Kether Donahue), a trainwreck married into a status marriage with independently-wealthy Paul (Allan McLeod), a dull, half-dimensional character who exhibits the same emotional layering as MTV caricature Daria. Season one displayed limited exploration of Edgar and Lindsay, as their purpose this season was to bolster the anti-love story that was Jimmy and Gretchen. Their complexes are just as messy and waiting to be hashed out with the same ashtray-strewn auras Jimmy and Gretchen omit. Added in the background are Jimmy's ex, recently married Becca, and her shifty new groom who desperately desires a friendship with Jimmy. Supposedly "normal", they prove they are just as damaged as the characters they share screen time with. All seven of these characters are the worst, as dictated by the title.
Where You're the Worst distinguishes itself from the boiler-plate of hangout/romantic comedies is most in that genre toil with the "Will They, Won't They?" dynamic of a coupling. You're the Worst takes a contrast of "Will They Stay Together?" indefinitely dooming the leads for disappointment and heartache. Several near and executed breakups are explored in this 36-episode run, which in bulk on Hulu is the best way to become invested in this series. Take a look at the ratings for the 36 episodes aired on FXX. They range from a hearty .44 A18-49 Demo to a frightening .06 in season 3. FXX evidently enjoys crafting an artistic masterpiece vs. another common pasture ratings hit. The series is addictive enough to insinuate a viewer to plunge into a Hulu subscription to investigate the buzz.
The defining traits of this series is the leads stick to their vision and seldom deviate. Jimmy is a shameless narcissist, and viewers will never outright love him, but rather love to hate him. Gretchen is a self-destructive mess. Though lovable, she always has one foot out the door and is not shy sabotaging herself or anyone near to escape. This brittle delivery shined at its best with Aya Cash' broken performance in Season 2 as Gretchen battled Clinical Depression for the arc of the season. You're The Worst executed this story with style and brilliance as it emerged right as the series appeared to be softening the jagged edges of the leads and whitewashing this series into dull domesticity. All seemed placid when a surprise and unwelcome hook had her mysteriously leaving the house in the evening with little explanation. Two episodes later, she is seen sobbing in her car on a hillside.
An inventive "disaster" in the form of a marathon paralyzing traffic and isolating a handful of people in a house without food or booze blasted the mystery open as Gretchen admitted she battles depression. Rather than do the self-contained solution in an episode or two, the tone took an ugly and uneven delivery as Gretchen's demeanor moved across the grid and pushed her to the brink. In an uncharacteristically devoted movement, Jimmy and the gang decided to cheer her up during their trademark Sunday Funday extravaganzas with activities designed to cheer up the self-destructive anti-heroine. This only placed a band aid on the deeper problem as Gretchen plunged deeper into her funk. The exploration was truthful as folks inflicted with this malady will scream to the rest of the world that mental illness is not a common cold which runs its course and goes away in a week or two. Gretchen sprang to life, then imploded. Logic went out the window as she insinuated herself in the neighbors' affairs and was unpredictable.
The true beauty of this tale is it explores what Depression does to the people around. It showed the fragile lines it can push loved ones to as they are dealing with an inconsolable person who is affecting the people left to tend to them. Just as this series pushed our patience to the brink, it subsided with a realistic fallout of Gretchen finally agreeing to seek professional help in order to control the condition's affects. Her sorrowful tale championed a sympathetic delivery from Cash and was a pleasant distraction from another toxic couple displayed front and center in the way of married couple Paul and Lindsay. The faulting of this tenuous tale does not lay with the talents of Allan McLeod or Kether Donohue, who managed to insert their trademark touches on this disastrous dumpster fire. From the beginning, the backdrop of Paul and Lindsay was she sold out, married the dullest, wealthiest man she could find and was unhappy with him. And that is where the series remained stuck with this tale over three seasons.
The greatest fallacy was the lack of development and backstory to Paul and Lindsay. Viewers have yet to learn what pushed the colorful Lindsay to hock her liveliness and engage in the dullest romance known to TV. More exploration was given to Becca and Lindsay's competitive nature than to what Lindsay did or did not love about this bland banker. As for Paul, it is evident writing dictated McLeod deliver the dullest performance known to man, as McLeod's eyes looked like they were ready to burst with color and give us more depth and delivery. All viewers knew about Paul was he was loaded, apparently a banker and never seems to be occupied with work. Paul displayed more range on a camping trip or on the toilet than any scenes with Lindsay. The one brief glimpse of interest the couple had was a karaoke duet to Aaron Neville and Lindstadt's "I Don't Know Much". The characters are holding each other back and more exploration is ripe with their splitting up.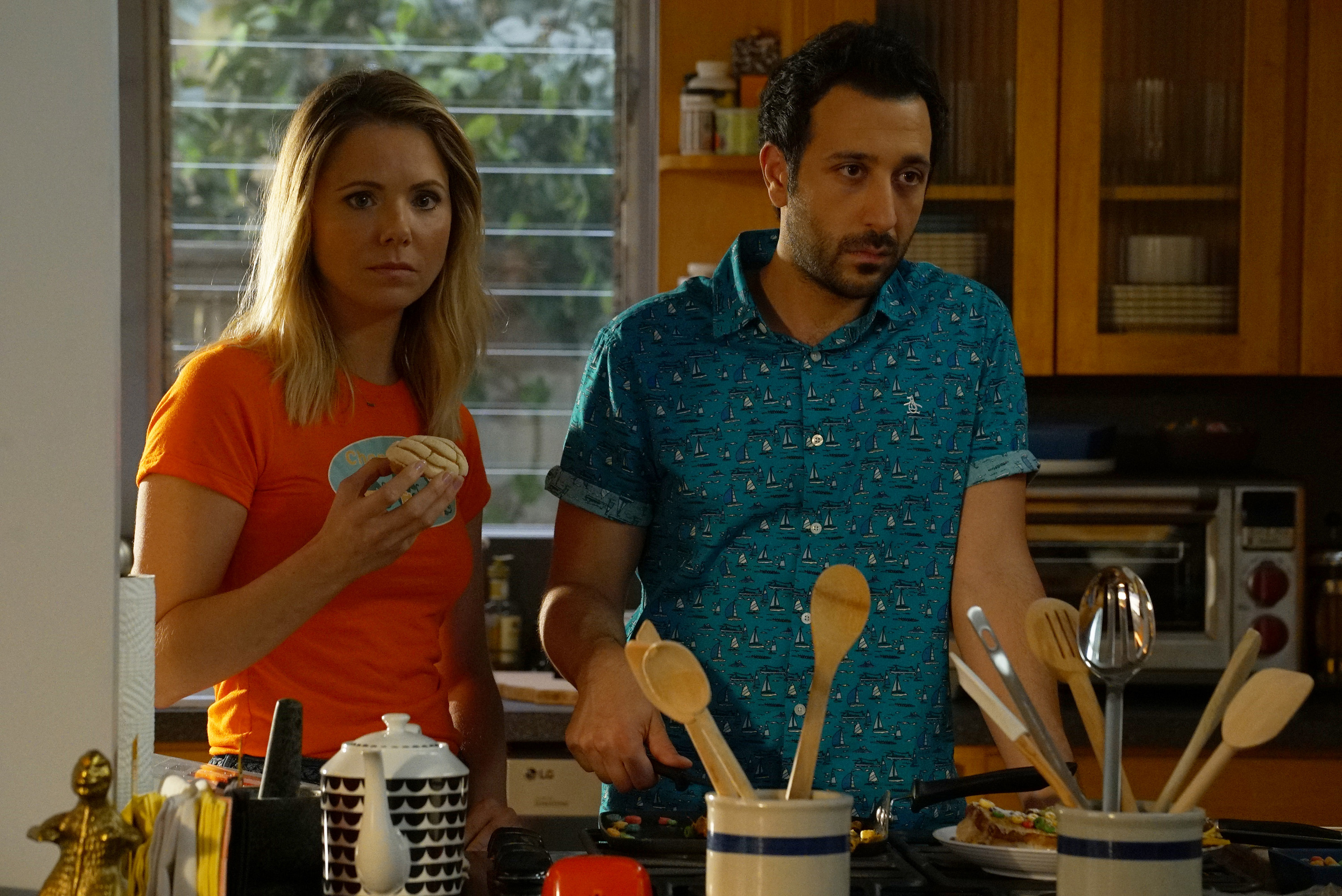 Contrasted to Paul and Lindsay's suburban nightmare was Edgar and Dorothy's (Collette Woode) sweet departure of a romance. Like Jimmy and Gretchen, both were upfront about their pitfalls and seemed more interested in each other than their flawed personalities. Such sweet and domestic love balanced the tone delivered with the remaining cast. Dorothy proved to be a nice fit with the ensemble and integrated better than Paul. Their honest romance offset the disingenuous foundation "normal" couple Vernon (Todd Robert Anderson) and Becca (Janet Varney) foisted onto their peers in a shameless play for superiority. Both dubbed Jimmy and Gretchen as "toxic" and gleefully told the couple so. Too bad viewers could care less, as Jimmy and Gretchen know who they are.
If hypocrisy is the function of Becca and Vernon among the ensemble, they have succeeded. For a couple who balks at the leads for being troubled, they seem to enjoy inviting them over for major events and somehow stroll in and out of their home. Jimmy screamed viewers' sentiments when he scowled "What the hell are all of you doing in my house!?" Normal people work to distance themselves from "toxic" folks, and somehow they invite them to their weddings, barbecues and share poignant moments in said toxic person's living room. Their ironic hypocrisy feeds into the show's title as they are the subset known as "You're No Better".
Part of what makes You're the Worst work well is the producers and writers seem to know what audiences look forward to. They have gritty, realistic settings. Their principle cast is striking, and their supporting characters enrich their presence and make viewers (sort of) root for Jimmy and Gretchen. Events punch the season order, from dramatic, exciting and weekly nuances the audience can grow to love. "Sunday Funday" is a staple event which gives the four leads an excuse to drink silly and have hapless adventures. Vernon and Becca's barbecues for whatever event they choose always lead to plot changes and people decked out in trending threads. Karaoke events punctuate the endings of these events with a heartfelt tug. Even non-events such as Edgar cooking up his latest concoction take a visual departure from the cursing and lewdness in anticipation of seeing what he crafted 15 seconds later.
Weddings and disasters also create ideal plotting grounds. The opening wedding for Vernon and Becca launched the dark tone of the show, while Gretchen's client, Shitstain and his fiancee provided a nice bookend wedding during season 3 as tensions ran high for the couple people sometimes root for. A Cabin Fever disaster acted as a pinnacle for season 2 as six characters found themselves stranded in Jimmy's house as Gretchen's depression came front and center. The episode was masterfully written and succeeded in establishing the slow-boiling tension which came to head with Gretchen's subsequent breakdown. Rather than exhausting the show's budget on a disaster from mother nature, they elected for a man-made mess as traffic from a marathon paralyzed the roadways. A lack of booze and food agitated the stranded folks, along with a mouse Jimmy worked to annihilate. The event packed the same punch as a tornado or storm leaving the characters in peril as dramatic developments were achieved with the same minimalist delivery. Most impressively, each season writes as though it is going to be its last and gives viewers rewards and heartaches to go with each closing chapter.
You're The Worst is a hot mess in too many ways to describe. In an era which defines sitcoms as a pack of nerds hanging out, coworkers squabbling or the trite family premise featuring a crazy mother, dopey father and three kids, this show shakes the genre up. It is both mastered and flawed, like a real character. Give it a whirl as now is the time to jump in and become captivated.
Share this