Written Fuller of Himself by Bridger Cunningham
Happy Anniversary, Full(er) House fans! On this evening 30 years ago, new pilot Full House debuted on ABC's highly-rated Tuesday evening before being moved to the troubled Fridays. The fledgling sitcom finished in a disastrous 71st place. The dynamics changed the following season when it tied for 28th place and descended upward to 8th place by the 5th season in the 1991-92 season. That height was marked by a move to Tuesday as the show managed to remain highly rated through 1994, ending in 25th Place in 1995. Like the original show's ratings, its revival delivered a ho-hum 1st season followed by an improved follow-up. The series has received scathing reviews with an oxymoron of observations being both valid and preposterous nature. But reviewers musk as the valid question -- Why do viewers tune into the revival on Netflix? Do they desire a relevant, updated continuation, or are they yearning for nostalgia and enjoy following three well-established child characters exploring adult lives? Let's break down the show's existing delivery --
If readers abhor spoilers, this article will do its best to avoid too many reveals, but readers must read at their own risk. So how did the season begin? With a 36-minute debut chock with too much nostalgia, an all-too-outdated laugh track and too little shelf space for the bloated ensemble. Fickle viewers would tune out as the episode delivered as unevenly as a sitcom reunion movie. However, wise readers should tune into the second episode, as the show finds out what the pilot missed -- character development. Subtracting the principle adults from the originals not only allows leading ladies DJ (Candace Cameron-Bure), Stephanie (Jodie Sweetin) and Kimmy (Andrea Barber) to explore their adult personalities, but also gives a welcome introduction to DJ's sons Jackson (Michael Campion) and Max (Elias Harger), as well as Kimmy's daughter, Ramona (Soni Nicole Bringas).
The premise works as the one nostalgic element writers succeeded in was having the ladies step into the principle roles Danny (Bob Saget), Jesse (John Stamos) and Joey (Dave Couiler) delivered in the original. DJ has assumed Danny's uptight yet orderly role as a widow with three boys, Stephanie is a wayward rocker like DJ, and Kimmy is the family outsider delivering outlandish doses similar to Joey. And best of all, the children have varying personalities. Jackson is a gawky teenager (channeling Danny's nerdiness), Max is a snarky, wisecracking neatfreak (channeling Danny's other traits), and Ramona is an anchoring element as her parents Kimmy and Fernando (Juan Pablo di-Pace) cannot seem to conduct themselves as adults. The ensemble's misadventures deliver a refreshing update to the original premise, if they can get an inch from the scene-stealing Nostalgia which overdoses the premise.
Save for Dave Couiler's welcome guest appearance as a babysitter teaching the kids to survive the night without the net, the other cameos from Full House past crowded the 13 episodes. Danny is now married to a lady named Teri. A missed opportunity indeed, as powerhouse Eva La Rue was used less than the plants in the Tanner living room. Danny dated women such as Cindy and Vicky, exploring their relationships with his daughters. No one knows how Teri interacts with her adult stepdaughter, and more appearances could further their character growth. La Rue is a class act and would never turn her nose up at additional appearances (she begged soap writers to craft a space for her years after leaving All My Children), so use it or lose it!
Jesse and Rebecca also suffer from being downgraded plot props with little development. The problem is this season failed to divulge developments the previous principles experienced in the last 20 years. How did Danny fall in love with his beautiful 2nd wife (or perhaps 3rd?). How did Jesse and Rebecca manage to make their marriage last so long? Only Joey's backstory developed in the 2nd season. Plus, Steve Hale's (Scott Weinger) return lacked the excitement and passion from the first run, as his story played out by season 7. Having him return in a forced romance with DJ failed as Weinger and Cameron-Bure no longer hold the same chemistry as they did as teenagers.
A Welcome Progression of Realism
Unlike these characters, DJ, Stephanie and Kimmy's developments in the 20+ year window have fleshed out appropriately. Solid, sensible DJ became a veterinarian, pursued the conventional family route and was now a widower with three children. The small dose of character-development she delivered in the pilot disclosed moderate money troubles, a realistic touch as she likely has mounds of student debt, raising a family in America's most-expensive region of the country. Stephanie's finances are graver, as she has adopted a freelance musician's lifestyle with a load of maxed-out credit cards. Kimmy delivered the highest helping of relevance as she became a party planner, channeling her eccentricity into a wise career. She just ended a volatile, mixed-up marriage and is figuring out how to parent a teenage girl.
The three women taking shelter in Danny's profitable home (in one of San Francisco's priciest neighborhoods) is believable as all three desired to allow the four children to experience their childhood in their same neighborhood they grew up in. Set design is impeccable, as the Tanner House was resurrected to precision and housed to to appropriate occupants. The one plot point dwelled on (and viewers would appreciate if it was dropped) was the obsession over Michele not being present. Everyone gets it. Mary Kate and Ashley Olson continue to refuse a return engagement as they are happier not acting anymore. It is time to focus on who is is here vs. who is not, as there are plenty of characters to love on screen.
Amazingly, John Brotherton managed to squeeze enough notice in this bloated cast to develop a welcome presence as newly relevant character in veterinarian Matt. And Carly Rae Jepsen's update to the iconic opening matches the tone of the original and the right delivery of nostalgia vs. the forced doses this season exhibited.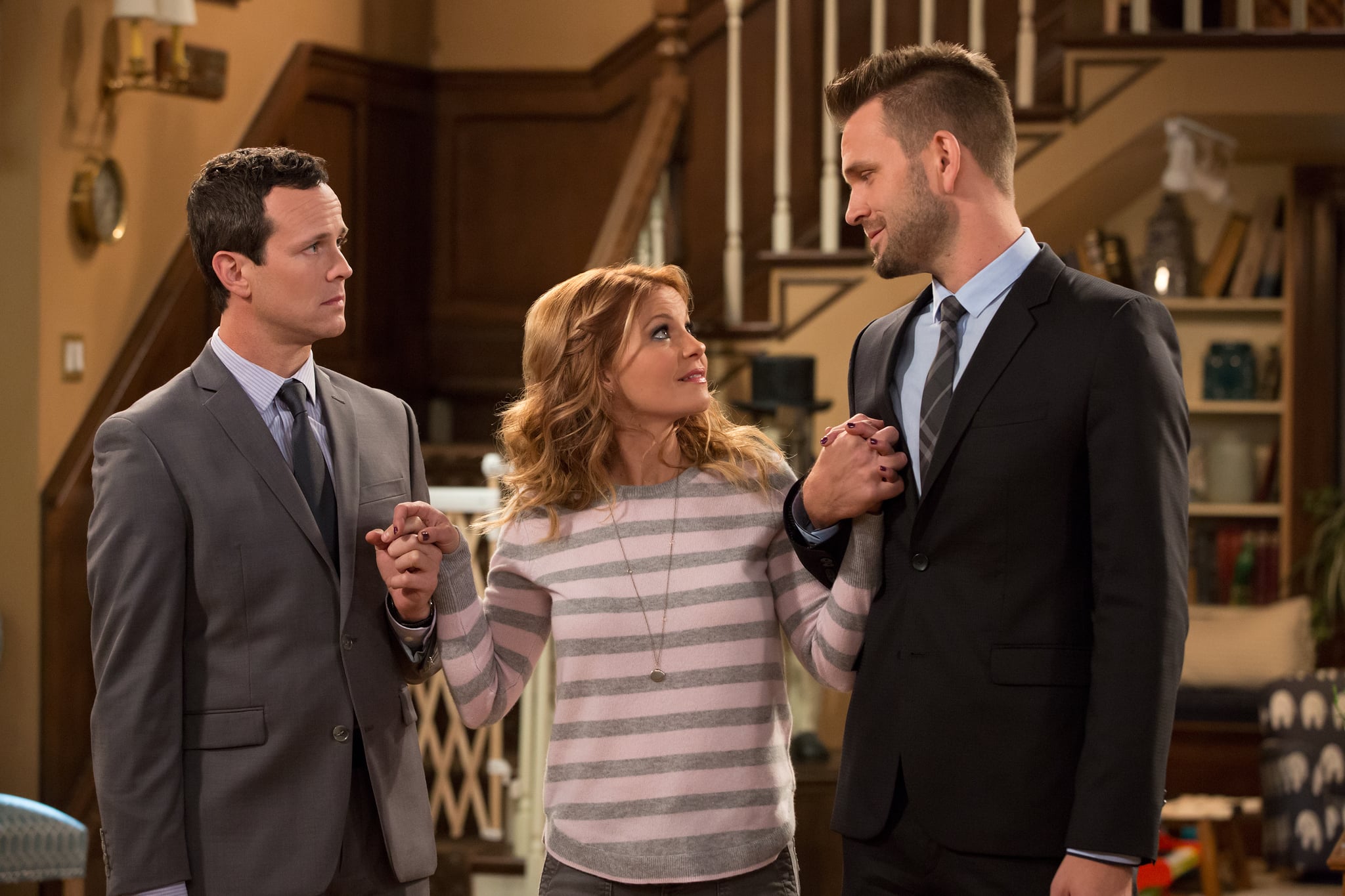 A tantalizing trio, or nauseous nostalgia?
After an all too trite closing hook from Season 1, Season 2 continued to develop the newer characters and the three ladies. Juan Pablo di Pace was upgraded to a series regular as Fernando, filling a void of leading male performers from the first 13 episodes. di Pace toned down the flamboyance enough to develop great chemistry with Harger's Max, who enjoys pestering and needling his household's freeloader. Their foil complex enriched the premise and created a welcome distraction from the monotony of the Steve/DJ/Matt triangle. The gentleman augmented the already-bloated cast with new girlfriends DJ doppelganger CJ (Virginia Williams) and Crystal (Gianna DiDonato). Adam Hagenbuch entered the fold with great chemistry with Sweetin, albeit he retconned the entire Gibler family as Jimmy Gibbler, the never before mentioned character. Characters mentioned from the Gibbler house in the past were three sisters (mentioned in the first season) and an older brother Ray (mentioned in Season 6).
Fitting.
These additions proved to be distractions, while younger additions with Paco, Lola, Taylor and Rose pleasantly augmented the younger cast. The writers also receive kudos for integrating a larger helping of Hispanic and Asian supporting characters, two primary communities in the Northern California region. Characters aside, the pacing of Season 2 delivered memorable developments as the season arced over the holiday season. Halloween allowed the ladies to exhibit memorable zaniness as DJ delivered a corny party, Stephanie and Jimmy indulged in ghoulishness as zombies and Fernando and Kimmy properly did a sendup to Lucy and Ricky Ricardo.
The cuddly Glastones? NOT!
A sendup to a chaotic holiday found the Tanner/Fuller/Gibler/(Insert Other Family Names Here) household over Thanksgiving. Save for Michelle, cast members of old and new filed into the house and all perforated the house's edges as everyone decided to crash under one roof (were the hotels all booked that evening?). The highlight of the episode is everyone finally learned what Joey has been up to since the 90's. He married a beautiful performer named Ginger (Laura Bell Bundy) and they had four bratty little children named Jerry, Lewis, Phyllis and Joan (all ingeniously named after Joey's favorite comics).
The principle cast, a holiday and a tree. Enjoy the simplicity.
Christmas delivered a nice wholesome delivery and gave viewers the greatest gift of all -- less cast, more sentiment! And New Year's Eve delivered the coup de grace to an improved season. After taking a critical look at the first season's strengths and pitfalls, the second season managed to create a landmark for Netflix next to Orange is the New Black. The show still garners flack from critics who complain about everything from too much nostalgia to displaying the ladies drinking. But guess what? The target audience is not the 8-17 year olds, but rather the 8-17 year olds who watched the original and enjoy seeing where their beloved ladies landed. Fuller House, like its predecessor, will never attract Emmys, but who cares? The show is clearly here to stay, as Netflix is using it as a launch for longer episode runs and an experimental split-drop release of nine episodes each spanned twice over the season. Add Fuller House to your bingelist, as 35 episodes/18 hours of greatness are available to marvel.
Share this