Written Moved by Brilliance by Bridger Cunningham
The 2017-18 scheduling banquet is upon us, with shows to give thanks for and turkey bones getting caught in viewers' trachea. Thank the lord ABC has granted medical resident Shaun Murphy a surgical rotation in its ailing Monday 10:00 via The Good Doctor. The previews painted a dark, gloomy pictorial of another medical procedure centered on a young medical resident with Autism Savant Syndrome. Sad, as the show is more than ABC's underscoring previews. The show brings adventure and passion back to the gloomy timeslot, once home to lighthearted procedural Castle.
Where the Good Doctor succeeds is the first 15 minutes pack more action than any drama and action ABC has displayed in hours of failed scripted fares. The protagonist, Shaun Murphy, begins the show in a picturesque walk to his first day as a resident. The scenes help recent ABC fans relive the outlandish fantasy of Pushing Daisies, offset by horrific memories scraping the character's backstory. Accurate, indeed, as individuals of this fascinating syndrome have articulate memories which intersect everyday moments with intensity. Enter a common medical mishap, a la ER or Grey's Anatomy as a young child is severely injured. Shaun interjects with vacancy, seeing only the trauma at hand, determined to save the boy via his alternative perspective.
Surgically brilliant, Shaun's determination cannot decipher social situations, grabbing a construction knife from TSA agents and nearly getting arrested. And yet Shaun's nuances highlight the run of the mill caricatures in the background questioning if his entrance into their hospital is too high of a risk. Enter the common bureaucratic board weighing on his entrance, the common resident physicians dabbling in soapy caricature roles, and stunning visuals similar to CBS' procedural crime dramas. A stunning, layered amalgamation of passion broadcast networks have lacked in recent years. The Good Doctor is indeed a puzzled, layered mess which is being deciphered, much like Shaun is doing with the unfamiliar world around him.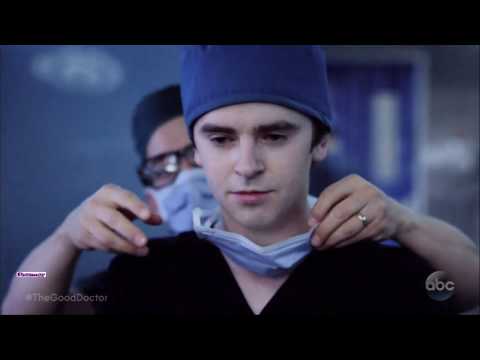 Viewers missing the adventure vacated by Castle, the gripping emergencies of ER, the addictive element of mystery from Revenge and the innocence of navigating new characters a la Grey's Anatomy 2005 must check out The Good Doctor. Featuring a dynamic cast, superb production values and poignant writing, ABC appears to have found its next champion in a bleak season. The Good Doctor pays homage to historic medical dramas such as ER and St. Elsewhere, as we can exhibit joy, humor and rewarding thrills shattered the next moment by shock, devastation and mayhem. That is the definition of drama, and a landmark serial demanding to be noticed. Once this brilliant piece masters establishing the surrounding cast, it will be unstoppable.
Share this