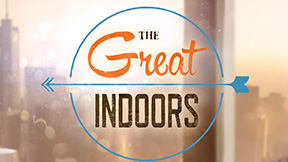 This feature examines what may cause this fall's new shows to do well or poorly. Today's article talks about what may cause
The Great Indoors
to succeed or fail.
What May Cause The Great Indoors to be a Hit?
Large lead-in
The Great Indoors
will likely get a lot of people checking it out, as it airs after CBS's highest-rated show,
The Big Bang Theory
. The huge hit comedy will provide a nice lead-in for
The Great Indoors
.
On-brand for CBS
Not only is
The Great Indoors
a multi-camera comedy, which is what does best on CBS, but also its premise of an outdoors-y guy having to deal with a bunch of millennials is a premise that seems like it should be appealing to CBS's typical older audience.
What May Cause The Great Indoors to be a Miss for CBS?
Less trailer views than the Monday night comedies
The trailer-watching article
tells us that the trailer views for
The Great Indoors
are below those of
Man with a Plan
and
Kevin Can Wait.
It seems that people may be interested in the show, or they may not know it exists.
Trailer not well liked
Additionally, those who saw the trailer weren't impressed. Its 61 like/dislike ratio has it tied with
Lethal Weapon
for the second least liked trailer, only behind
MacGyver
.
Again, that information can be found here.
The Good Place could be a hit
The Great Indoors
will be airing up against another new comedy, and that one gets a five-week head start. We don't know how well
The Good Place
will perform, but it could potentially draw viewers away from
The Great Indoors
.
What to Expect for The Great Indoors?
I think that the positive factors will have a great effect on the show, and that it will be successful, as I think that the large lead-in covers for the trailer views and being on-brand covers up for trailer reception, considering the age of CBS's audience.
Which factors do you think will be most in play in causing
The Great Indoors
to be a hit or a miss? Leave your thoughts in the comments!
New Show Hit/Miss Articles
Share this