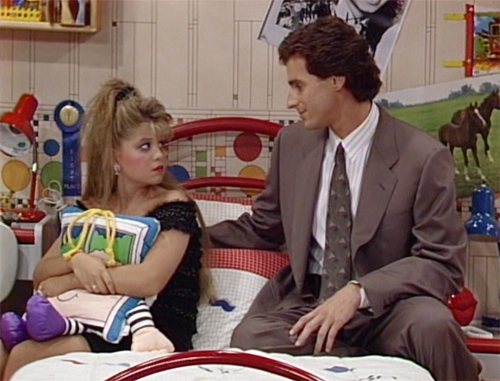 Written Flushing a Full House of Sitcoms by Bridger Cunningham
The 2016-17 season is over, with 25 of 34 main season entries renewed. This season delivered a hearty helping of sitcoms after years of reduced comedies. However, those numbers pale in comparison to the glory days of the 80's. Back in the 1989-90 season, the four networks bolstered a whopping 55 entries, with 31 network renewals. 32 returned, as the Hogan Family was resurrected on CBS after a 5-season run on NBC. This season presented changes in the heart of the Family-First era, which dominated airwaves from 1984-92.
Back in 1989, the first president Bush entered into the White House, presenting the first time since 1929 that the Republican party had a president in a consecutive third term. The Cold War which terrorized America like a passive-aggressive threat began to thaw; perhaps Global Warming aided the end to the longest war of the 20th century. November 9 cracked the Berlin Wall after standing for 28 years, and the US Government overthrew Panamanian dictator Manuel Noriega on December 20. These developments were indeed heavy, offset by topical issues such as the AIDS crisis and escalated drug usage. Fittingly, TV presented a wholesome escape for Americans tired of everyday troubles.
Viewers were in the center of the Family First Era, which emerged due to The Cosby Show's prominence in 1984. This year also presented the rebirth after a quieter 8-year Escapism era which sitcoms took a backseat to fantasy fares like Charlie's Angels, Dynasty, Dallas and The Love Boat. Every evening this season featured a family-friendly sitcom, with ABC cornering the market with its Tuesday, Wednesday and Friday offerings. 1989-90 also featured a rise in workplace laughs for adults with an equal number of 25 offerings. Seven sitcoms split the emphasis of subgenres of Hangout, Workplace or Family themes, of which five were renewed.
Above is the breakdown of the 55 sitcoms offered, minus the current covered 18-49 demographic. Although these numbers were tracked by Nielsen, the target moneymaker with ratings was the share, or percentage of American viewers watching. A show with a healthy 13.9 share meant 13.9% of the population was watching. Also valued were overall Nielsens. 7 of the top 10 programs of this season were sitcoms scattered across Tuesday, Thursday and Saturday between ABC and NBC, both of which assured viewers 4 sitcoms at all times during the schedule. Stacked against the current Sitcom Scorecards, the 4 classifications would break down with 21.9M overall viewers to break into the "Leading the Pack" range, 16M to enter the "Middle of the Pack", the delta of the "Anemic" range would be 11M, and everything below in "The Abyss".
The 1989-90 breakdown differs from the 2016-17 classifications as majority of the Anemic range was cancelled, and The Abyss featured a true toss-up due to FOX dominating this region. Nielsen winners and losers received their ratings by evenings.
Here were the evenings for sitcoms, by strongest evenings (out of order):
THURSDAY
Competitors knew to steer clearn and place softer fares on this evening, as NBC Thursdays featured three Top-4 players scattered between 8-9:30pm, with the 9:30 timeslot less prominent and scattered between 4 sitcoms. Two weaker players who aired later in 1990 in that slot, Wings and Seinfeld, would become sleeper hits who ran until 1997 and 1998, respectively. All four 9:30 shows were renewed, with Grand burning off the grid the following season, and Dear John making it to 85 episodes by 1992.
TUESDAY
Cosby narrowly tied with ABC Tuesday's Roseanne, which built its pre-audience with The Wonder Years placing 6th at 8:30 and aging Who's the Boss taking 8th at 8pm. Like Thursdays, the 9:30 ABC timeslot shadowed the earlier block with forgotten Chicken Soup and establishing hit Coach. Chicken Soup placed 9th, yet was cancelled due to star Jackie Mason's controversial political remarks, making it the highest rated cancellation. Successor Coach placed 16th that season, yet cost less as its marquee stars were Craig T. Nelson and Shelley Fabares against powerhouses of CS, Jackie Mason and Lynn Redgrave.
SATURDAY
NBC cornered this market with shares of gold, thanks to our polished seniors on Golden Girls placing 5th in Overall Nielsens and Shares (and 6th Place in overall network measures outside of sitcoms). It led into Empty Nest, who retained nearly 95-percent of Nielsens and Shares. The 8pm Hour rated 30-percent lighter by comparison, shared by aging fares 227, Amen, Hogan Family and ALF. ALF and Hogan family relocated after 4 and 5 seasons from Monday as NBC opted to reinvent said evening against CBS' moderately rated sitcom block. Of the four helpings, only Amen would survive as NBC opted against renewal. Spring 1990 saw changes again as the 8pm slot went to dramatic piece A Home For Joe, and NBC's lowest rated and properly forgotten workplace sitcom 13 East at 8:30. The 10pm hour opened the gates for Carol Burnett vehicle Carol and Company (14th Place) and Down Home (32nd). Both fares were renewed, yet burned off the following season. ABC made mild attempts at laughs with aging Mr. Belvedere and Who's the Boss spinoff Living Dolls (featuring upcoming stars Halle Berry and Leah Remini). Both discontinued in December, with Mr. Belvedere receiving a one-evening sendoff in July 1990.
The remaining four evenings held less prominence, yet delivered respectable performances.
WEDNESDAY
Aging ABC laughers Growing Pains and Head of the Class placed 2nd in their timeslots against NBC's Unsolved Mysteries, the 9-10pm hour delivered respectable ratings with Anything But Love and Doogie Howser, MD. After the young doctor outperformed Scream Queen Jamie Lee Curtis' ABL, it was sidelined, Doogie moved to 9pm and dramatic pices complimented Doogie with lackluster results. Seeing softer ABC performances, NBC and CBS assembled half-hour affairs in each hour. NBC's Night Court emerged victorious against ABL, yet Cloris Leachman workplace sitcom The Nutt House placed 3rd in its timeslot and roasted over an open fire. Spring sitcom FM failed against Doogie Howser and faded out by Season's End.
FRIDAY
TGIF debuted this year with soaring results blazed by increasingly popular Full House (12th) and freshman Family Matters (17th). Its parent spinoff, Perfect Strangers, held its ground in 25th Place, with 9:30 follow-up Just the Ten of Us retaining an impressive 95% in 26th Place. The Growing Pains spinoff outrated CBS' ailing soap Dallas by 3 million viewers, yet received an unwarranted pink slip by the season's end. The network's reasoning? The 8-9:30 hours were produced by Miller-Boyett productions, who demanded a monopoly over the 8-10pm hour. Subsequently, the 9:30pm timeslot struggled in succeeding years to find a suitable replacement, cancelling nearly all 1990-2000 players in this slot by season's ends. CBS made a minor play for laughs in the springtime in the 8-9pm hour with Baghdad Cafe and Sugar and Spice. The results? Baghdad Cafe faltered mid-season the next year, and Sugar and Spice soured to staleness by May 1990.
MONDAY
However did Mondays rate weaker than Fridays in sitcoms!? CBS managed to build a praised feminist workplace 9pm hour with Murphy Brown and Designing Women. 8pm launched moderately successful family/workplace fare Major Dad. Beyond that, CBS took scheduling risks with the entire season housing sitcoms from 8-11pm from September-May. The final season of Newhart disintegrated, moving from 10:30 to 10pm, and finally at 8pm after three failed freshman comedies faltered. Among them: Wes Craven helmed The People Next Door, Teddy Z and City. Teddy Z started in the plum 9:30 timeslot, then moved after The People Next Door died. CBS reverted Newhart upward with freshman sitcoms Doctor Doctor and His & Hers, with the last dying in a cursed timeslot. DD lasted another season, yet hemorrhaged at 9:30 in a soft order the following year. Over at NBC, ALF and the Hogan Family declined and relocated to Saturdays.
SUNDAY
A sitcom wasteland, the greatest laugh was only two sitcoms (Married With Children, The Simpsons) survived among the three networks, and both rated in the scheduling Abyss. ABC newbies Free Spirit and Homeroom lost spirituality and a sense of space early in the season, killing ABC's attempts at laughs. NBC straddled three sitcoms over the 8pm Hour which landed in the Middle of the Pack -- Sister Kate, My Two Dads and Ann Jillian. All failed to outrate CBS procedural Murder She Wrote and ABC reality platform America's Funniest Home Videos and learned N-ew B-usinesses C-rashed by May. Conversely, FOX landed Share-d success with MWC and Simpsons. Open House closed, as did original mainstays Tracy Ullman and Garry Shandling.
1989 was a successful television year as it offset the world's problems with 55 sitcoms over 4 networks. 32 returned (The Hogan family moved to CBS), with several lasting well into 1998. And the Simpsons carries on....
Shows Which Enjoyed 4+ Seasons on this roster beyond May 1990:
The Simpsons (Ongoing in 29th season)
1998 Finale:
Murphy Brown (10 Seasons)
Seinfeld (9 Seasons)
Family Matters (9 Seasons)
1997 Finale:
Roseanne (9 Seasons)
Coach (9 Seasons)
Wings (8 Seasons)
1995 Finales:
Full House (8 Seasons)
Empty Nest (7 Seasons)
1993 Finales:
Cheers (11 Seasons)
Perfect Strangers (8 Seasons)
Designing Women (7 Seasons)
A Different World (6 Seasons)
The Wonder Years (6 Seasons)
Doogie Howser, MD (4 Years)
Anything But Love (4 Years)
Major Dad (4 Seasons)
1992 Finales:
Night Court (9 Seasons)
The Cosby Show (8 Seasons)
Who's The Boss (8 Seasons)
Growing Pains (7 Seasons)
Golden Girls (7 Seasons)
Dear John (4 Seasons)
1991 Finales:
The Hogan Family (6 Seasons)
Head of the Class (5 Seasons)
Amen (5 Seasons)
Share this