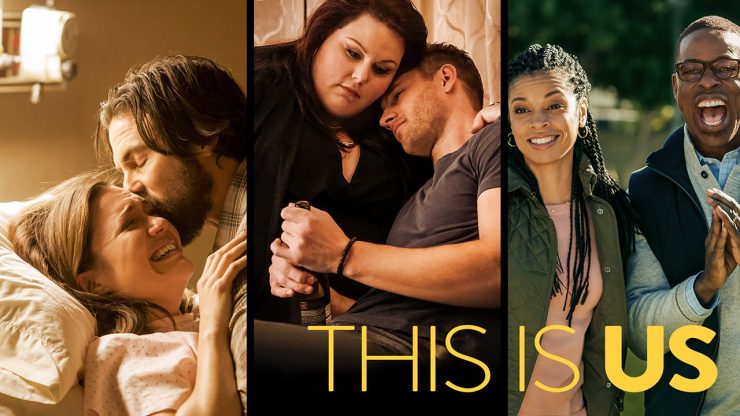 This feature, which I began with
a post about The Good Place on Friday
, examines which factors may affect a show's ratings, as any show can really do well or do poorly. Now, I will examine what might cause
This is Us
to succeed or to fail.
What May Cause This is Us to be a Hit?
Airing after The Voice, and beginning in premiere week
Not only does
This is Us
get the benefit of airing after
The Voice
, but, unlike most Tuesday post-Voice shows, it begins in premiere week. NBC cares about it enough to give it this benefit, which are strong signs pointing to success.
Many people watched the trailer
According to the
trailer-watching article
, this was the most watched trailer of all the new fall shows. People are interested, so they will likely watch.
What May Cause This is Us to be a Miss for NBC?
Lack of success in the comedy-drama genre
We all know
Crazy Ex-Girlfriend
around here for its low ratings, and the other CW comedy-drama
Jane the Virgin
doesn't rate much higher. Another hour-long comedy-drama this season,
You, Me and the End of the World,
got horribly low ratings, and even the more remembered comedy-dramas that lasted, such as
Parenthood,
never had much ratings success and didn't last very long.
Chicago Med only success from Tuesday at 9:00
Despite the solid lead-in, the only show that was actually successful from this timeslot was
Chicago Med
, a spin off of
Chicago Fire
that also aired on the same night as
Fire
.
Go On, The New Normal, Growing Up Fisher, Marry Me,
and
One Big Happy
all lasted one season, while
About a Boy
failed in season 2 and
Undateable
in season 3.
What to Expect for This is Us?
I think that all four factors will come into play, but the miss ones to a slightly larger effect. I think its best shot is reaching
Parenthood
-level success and lasting on Friday or in a troubled timeslot such as on Thursday. It could also very well get ok numbers and get canceled after one season. To me, it doesn't seem like the type of show that would succeed, but it has the advantages that could help it succeed.
Which factors do you think will be in play the most in causing
This is Us
to be a hit or a miss? Leave your thoughts in the comments!
Share this