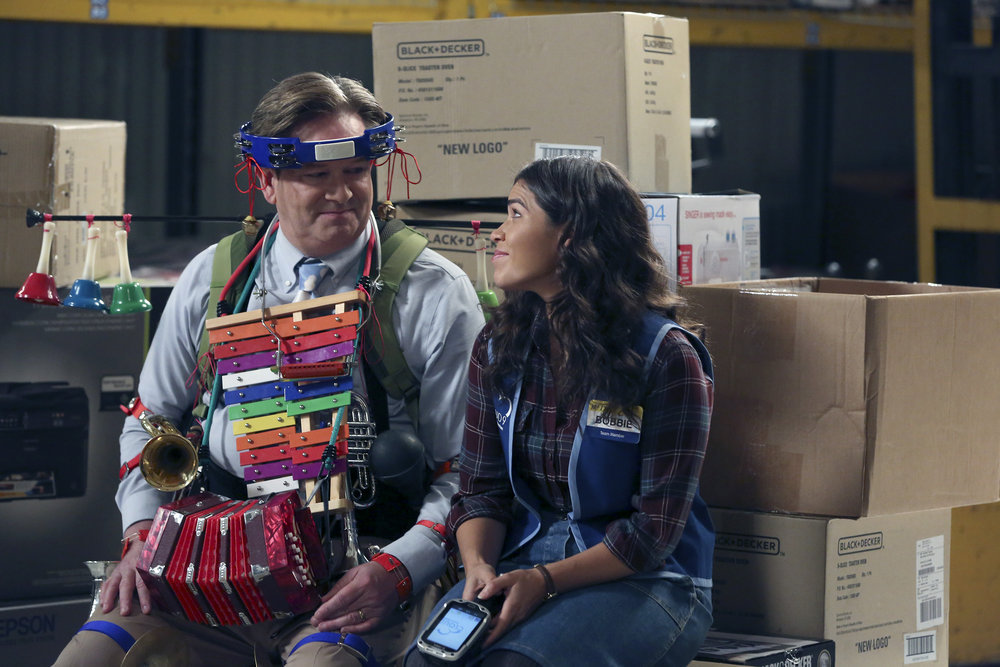 Picture Credit: Hidden Remote
This week, the employees clean out the lost and found, and the episode will follow up to the ending of the last episode with Garrett and Dina.
S2E10 "Lost and Found"
The episode starts with some funny moments, as Amy and Jonah watch Myrtle try to figure out her scarf, and Dina reads an announcement from corporate about seasonal affective disorder. The employees each get to randomly select something from the lost and found, which is funny, as they are supposed to empty it out each January, but corporate never told them how.
Jonah and Amy go through the pockets of a pair of cargo shorts that was left in the lost and found, and they discover a large wad of cash. Amy and Jonah talk about what to do with the money, and she wants to help people, but Jonah convinces her to be selfish with the money. However, she gives some money to Cheyenne, who tells everyone about the money.
Amy decides that they should get things for the break room, and that ends up leading to everyone spending their time there. Sandra, however, finds out whose money it was, and it was perfect for Sandra to deliver that news. The employees interrogate the person, and that is really funny.
Glenn talks to the pharmacist about employees being depressed, and as often happens with the pharmacist, there are some funny lines. Glenn decides he will try to make everyone happy, so he goes around asking people what their favorite animal is, but it is funny when they give him things that are too complex to make as a balloon.
It is very funny when Glenn tries to cheer up Dina with a puppet, and she insults him. Glenn, wearing some hilarious things, talks to Amy, who opens up about what is happening with her and her husband. This was a great moment between the two of them,
Dina accuses Garrett of being weird around her, even though she is more weird around him. Garrett goes to Dina to explain to her why he was smiling earlier, and she somehow is able to turn it back on him.
Glenn was hilarious tonight, and the moment with him and Amy at the end of the episode was great. Dina and Garrett had some good moments as well, and Amy and Jonah's story was enjoyable,
Score: 8/10
What did you think of "Lost and Found"? Leave your thoughts in the comments!
Share this