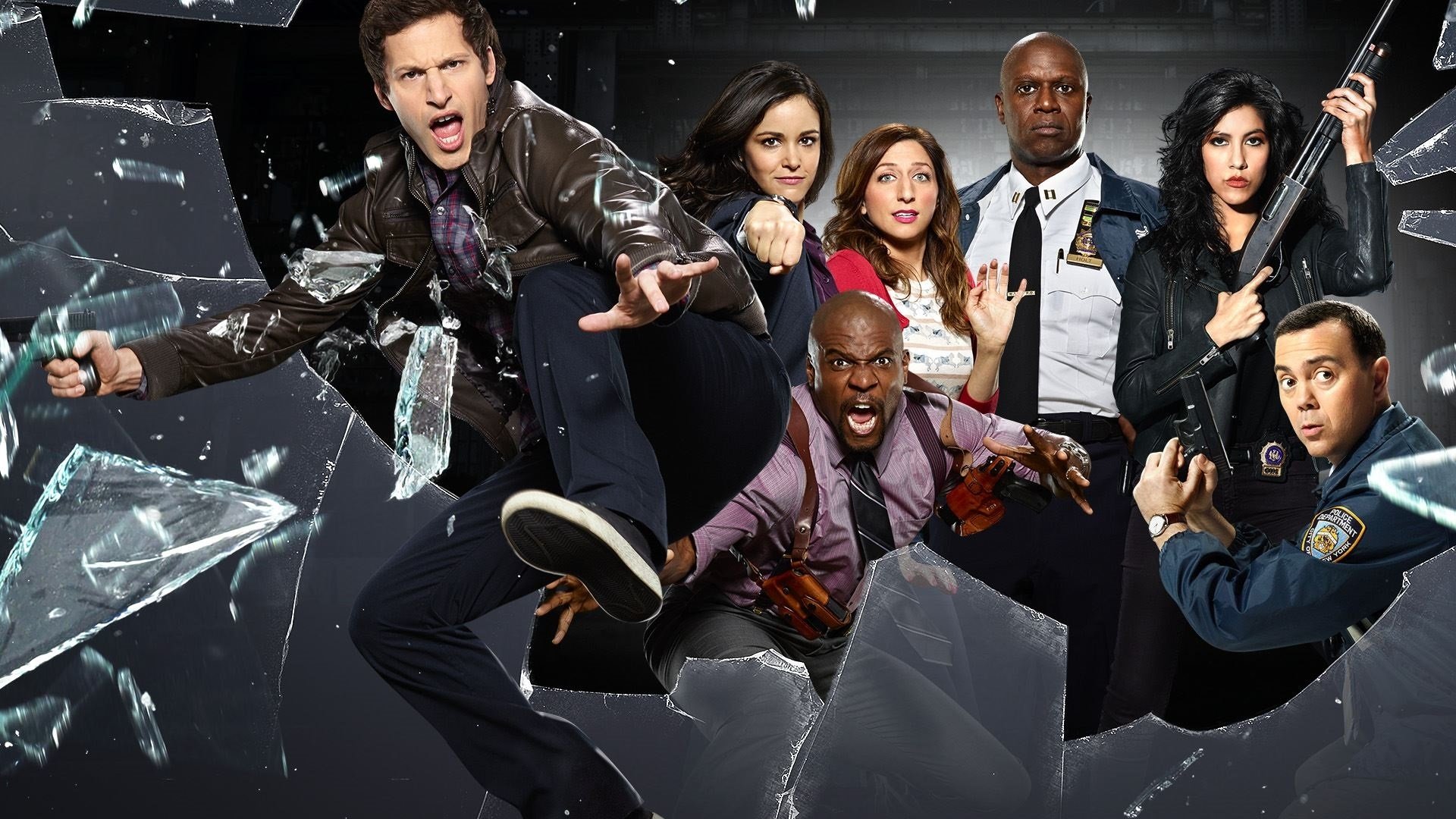 photo: hdwallpaper.nu
Through more than nine dozen episodes, Brooklyn Nine-Nine has provided some of the funniest moments of the last decade. From Peralta's shenanigans to Holt's deadpan nature, it's tough not to love every single outing. Nevertheless, rounding up a handful of installments to represent the best that the series has to offer is no easy task. With that said, here are ten outings where the characters, story, and setting all come together to deliver gut-busting and/or heartwarming results.


10. Season 2, Episode 5: The Mole


When a germophobic lieutenant from Internal Affairs informs Holt that there's a mole in the precinct, Jake and the captain team up to find out who has been leaking classified information. This installment effortlessly conveys how relationships can be torn apart when the stakes are raised. Many scenes that are exceptionally amusing introduce a hidden side of these characters. For instance, Peralta and Holt's sleepover fight makes it clear that the two still have not reached the point where they can fully trust one another. Jam-packed with suspense, hilarity, and an appearance by the severely underused Madeline Wunch, The Mole generates laughs just as well as it creates genuinely tense moments.
9. Season 2, Episode 12: Beach House
photo: Brooklyn Nine-Nine Wiki

In an outing that shoves police work to the side, the squad heads to Boyle's beach house for their annual detectives only getaway. To fairly negative reception by the rest, Jake invites Captain Holt to join in on the fun. From six-drink Amy to vacation Terry, every character has a moment to shine and show off their demeanor outside of the demanding precinct environment. Beach House also manages to tug at the heartstrings when the writers explain how Holt never managed to "josh around with his peers" due to his sexual orientation. Even though the detectives spend a good part of the vacation attempting to avoid the captain, they eventually invite him to their legitimate party after a touching moment between Holt and Peralta takes place. While turmoil ensues in the front half, this outing only strengthens the bond of the core cops by placing them in a foreign setting. Through the premise and character development that comes with it, Beach House ends up being a unique and memorable piece.


8. Season 1, Episode 5: The Vulture
In one of the earlier episodes of
Brooklyn 99
, the writers construct a scenario that fleshes out each character by pitting them all against a merciless antagonist. The Vulture (Dean Winters) swoops in and steals Jake's nearly-finished case in an attempt to take credit for it. This leads to the group of police officers getting drunk and invading the crime scene to solve it first. The installment establishes the strong connections between the detectives and showcases the bubbling chemistry that they have with each other. Thanks to the cunning nature of Winter's character, the viewers also get to see Jake mature a bit. By taking responsibility for breaking into the apartment, one realizes that Peralta is more than just a wisecracking man-child. It's extremely rare to have everything click just five episodes into a series but
Nine-Nine
manages to pull it off.
7. Season 2, Episode 10: The Pontiac Bandit Returns
The Pontiac Bandit reappears in this holiday-themed episode following his escape in the first season. As always, Craig Robinson and Andy Samberg work ridiculously well as a comedic duo as the Pontiac Bandit leads Jake & Rosa to Giggle Pig supplier Tito Ruiz. It's irresistible to watch Robinson's character slowly gain Peralta's trust with his signature charm and then eventually leave him in the dust. The friendship between the cop and criminal is nothing short of infectious due to how unusual the dynamic is. Although every episode featuring Robinson is phenomenal, this season two cut sticks out thanks to the high-stakes premise and phenomenal action scenes all placed neatly over a Christmas-themed backdrop.
6. Season 2, Episode 4: Halloween II
Out of the four Halloween episodes, this one has the most charm and wit to it. The bet between Jake and Holt continues and Jake has to steal Holt's watch by midnight. Unfortunately, Peralta doesn't have the upper-hand this time and as he treks across Brooklyn, he loses his badge, gun, shoes, and ultimately ends up in the interrogation room as his captain intricately explains how he defeated him. Holt's plan here is so much more creative than Jake's in the first one and it's always surprising to see how much fun the Captain can have in these competitions. Plus, who wouldn't want to see Jake Tokyo drifting in a shopping cart. Before the Halloween episodes became more predictable and tedious, this second installment perfectly captured and built on the exciting and unconventional energy that made the first one so fresh.
5. Season 3, Episode 20: Paranoia
In this late-season 3 episode, Rosa & Pimento are about to get married so the girls (and Boyle) have a party with Rosa while the guys hang out with Pimento. Things take a dark turn when the guys find that Figgis hired an assassin to kill Adrian, resulting in him having to fake his death. Pimento then has to go into hiding after they find that Figgis has an agent in the FBI. Adrian's madcap humor shines in the episode but the Rosa plot is equally entertaining as Amy, Gina, and Boyle each try to give Diaz the best party, leading the gang to go from laser tag to trivia night to demolishing a building. The end result is rather somber as Rosa bids goodbye to Pimento and the gang vows to take down Figgis. This episode is a great introduction to the Figgis arc that inhabits the show from late season 3 to early season 4. As a standalone addition, it's a wildly engaging ride. Despite that, it works a lot better when viewed alongside the following six episodes.
4. Season 3, Episode 10: Yippie Kayak
Yippie Kayak other buckets! Here's another example of a recent
Brooklyn
classic. Jake forgets to find a Christmas present for Charles so he rushes to the store to get one, with Charles himself and Gina tagging along. Unfortunately, a robbery is taking place so Jake and Charles have to take action and stop the bad guys. To Jake's glee, the scenario resembles real-life
Die Hard
which leads Peralta to desperately try to live out his favorite film. Packed to the brim with memorable one-liners and over-the-top slapstick comedy, this one is simply a joy to watch. In one of the most entertaining moments, the duo of Jake & Charles take down the criminals to Onyx's "Slam". This gem of a Die Hard homage completes the trifecta of must-watch
Brooklyn Nine-Nine
Christmas episodes.
3. Season 1, Episode 10: Thanksgiving
If Brooklyn Nine-Nine was as recognizable as
Seinfeld
, "My wife was murdered by a man in a yellow sweater" would be as wildly quoted as "Not that there's anything wrong with it". Peralta hates Thanksgiving with a passion and finds an opportunity to get out of Amy's disaster Thanksgiving dinner to work a case with Holt. Approaching the criminal, Peralta makes up aliases for the two, Barley and Jimes. Jimes, a man who solved every case except one, the murder of his wife. Holt goes into character during their visit to the perp's house and the end result is a moment that phenomenally showcases the Captain's eccentric side. In the other plot, the Amy Thanksgiving dinner results in many relocations. From her apartment to Shaw's Bar to the precinct itself. Of course, Rosa is happy the night was a disaster. On the other hand, Terry can't stop being hungry and does whatever he can to get himself some food. The final result is an ethnic dinner at the precinct with the whole squad together. This is another installment that conveys how tight the cops at the nine-nine are. Regardless of any fights or disagreements they have, they are a group with infectious chemistry. Who better than the gang at the Nine-Nine to get you in the turkey day spirit?
2. Season 1, Episode 11: Christmas
The storyline for this outing is simple but engaging. The captain receives death threats and he enlists Peralta to look after him. As a result, Jake uses his power over Holt as much as possible. This results in Samberg's character handcuffing him and quarantining him in a no tie-zone. Things get legitimately tense when the squad faces off against the man who made these threats and it all ends with Boyle getting shot in the butt. These early season one outings exemplify just how quickly the series was able to create a fully fleshed-out ensemble of characters. It also shows how the writers are not afraid of taking
Brooklyn
into slightly darker territory than expected from a sitcom. Coupled with a perfectly choreographed Santa fight in the cold opening and some heartwarming interactions with Holt and Jake, this first Christmas episode is sure to make viewers laugh and get in the holiday spirit.
1. Season 2, Episode 22: The Chopper
Peralta, Boyle, and Holt flying in a helicopter to find a murderer and a million bucks, how could this not be amazing. This is an episode where you not only get hooked on the gang's hi-jinks but the case itself as they try to find the members of the Fulton Street Four. There's nothing you can't love in this one from Holt, Jake & Boyle jumping off the helicopter in bad-ass fashion to the rest of the squad hosting a field trip for some middle-schoolers to Santiago proclaiming "Some say Latin is a dead language, but I say it's just taking a long nap". It's always a pleasure seeing the more carefree side of Captain Holt and this episode utilizes it perfectly. Witnessing Holt become genuinely enthusiastic and invested in the case alongside Peralta and Boyle is a sight to see. It's pleasantly jarring to see Braugher's character break free of his deadpan delivery and don a gleeful tone. Additionally, the cold opening scene below perfectly sets the mood for an episode that never runs out of comedic fuel.
What are your favorite episodes of
Brooklyn Nine-Nine
? Comment below.
Share this