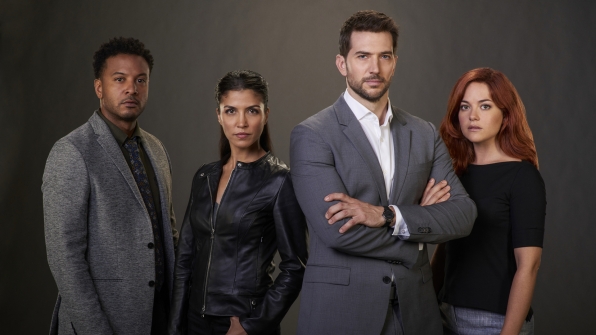 With the winter edition of new show hit/miss, I am now moving on to CBS, beginning with Ransom.
What May Cause Ransom to be a Hit?
Lead-in for premiere
Ransom
gets a football-boosted
60 Minutes
as its lead-in when it premieres on January 1st. These large lead-in means many viewers will get a chance to try out
Ransom
, some of which could stick around when the show begins regularly airing on Saturdays beginning January 7.
Familiar enough for the CBS audience
The CBS audience likes police procedurals, and not much else. The most recent successes on the network, however, have been
Bull
and
Scorpion
, both of which are procedurals, though the former is a legal procedural, and the latter centers on a company working with Homeland Security. These two shows are near police procedurals, but not quite there.
Ransom
is a police procedural, but it centers on kidnappings, while many police procedurals focus on murders. This makes it different, but familiar enough to the CBS audience.
Lack of competition
Unlike on other days of the week,
Ransom
doesn't have many shows going up against it. It will have to compete with
Dateline
, FOX reruns, and, beginning later in January, basketball on the broadcast networks. This competition is much easier to go up against than the usual.
What May Cause Ransom to be a Miss for CBS?
Lack of promotion
Ransom
? That's a show? This is something many viewers may be wondering. CBS has not released a minutes long trailer like usual for the show at this time, which is one and a half weeks before the premiere. A 30-second promo was released by CBS on December 13, and another on December 19. I have watched two shows live on CBS in their last week of originals,
Bull
and
Scorpion
, and
Ransom
was never promoted during
Bull
, and only promoted once during
Scorpion
. The awareness for this show, as a result, is likely very low.
Having to self-start
CBS could have aired
Ransom
at 9:00, giving it a lead-in of a rerun of one of their shows. Instead,
Ransom
's lead-in is local programming. This means there are likely very few viewers who will be watching CBS before
Ransom
premieres that decide to stick around when
Ransom
comes on.
What to Expect for Ransom?
I think that the biggest factor here is the lack of promotion, though the lead-in for the premiere could help some. Ratings will likely have to be quite low for CBS to cancel
Ransom
, considering how low expectations are on Saturday, and how cheap the show is being an international co-production, but it could rate low enough for that.
What factors do you think will cause
Ransom
to be a hit or a miss? Leave your thoughts in the comments!
Share this