Written Laughing at The Folks Who Missed the Evolution Bus by Bridger Cunningham
The last month of sexually laden headlines surrounding the entertainment industry has soured several fans and viewers' opinions of actors and the productions they are involved with. Actors, producers and writers have fallen from grace amidst allegations of sexual misconduct, dating back decades. And now the Roseanne reboot is in the headlines again as well. Not because one of its cast or production members is involved in such scarring publicity. But rather, it is loosely reported that Roseanne Barr and her writers have the gall to incorporate a gender fluid character in the form of one of Roseanne's grandchildren. How dare they.
Per the Huffington Post, One Million Moms (1MM), a division of the American Family Association, is facilitating a boycott of the reboot, citing the development is part of the "Transgender Agenda" and "child exploitation agenda at its worst." One would venture to speculate this group is like the Kardashians on the controvery realm attempting to position themselves for a cameo or mention on Roseanne's new production. It is saddening coming close to 2018 to see people vocalizing these defamatory views, as television and entertainment has evolved to incorporate developments and social issues via well-developed characters and entertaining tales. Majority of society could care less and is more inclined to criticize characters for being poorly developed vs. from a minority demographic. Frankly, most people don't give a shit!
Earlier this year, a casting call was placed for Mark Healy (the 9-year old nephew of the deceased original character) and specified the character would be "gender creative." The casting call further outlined the character as "sensitive and effeminate" and displays traits of both "young female and male traits." Sounds like a younger version of his father, David Healy (Johnny Galecki), a sensitive artist who still identified as straight. And a well-developed character, considering he is named after a chauvinistic meathead uncle (the late Glenn Quinn), and is the son of a kind father and a crass, sardonic and socially aware mother, Darlene (Sara Gilbert). 1MM is trolling on the speculated casting call, boldly stating
"ABC is glorifying gender dysphoria, also known as gender identity disorder, and using a child to promote this mental disorder."
Looking Back at How Roseanne Pushed the Controversy Envelope in Lieu of the LGBT Community
And who better to insult a group of this caliber than the queen of insults herself, Roseanne!? During the series' 1988-97 run, Barr introduced a plethora of LGBT characters from frenemy business foil Leon (Martin Mull), his delightful counterpart spouse Scott (Fred Willard), narcissist bisexual friend Nancy (Sandra Bernhard), her slew of charming and beautiful lesbian lovers (welcome cameos by Morgan Fairchild and Mariel Hemingway), and even her starchy mother Beverly (Estelle Parsons) declaring herself a lesbian late in life. The latter was considered a plot misfire which jumped the shark, but the remains were welcome additions to the ever-evolving ensemble. Barr's philosophy behind integrating LGBT characters was two of her own siblings identified in this category, and she wanted the American public to be able to experience getting to know folks who identified in this category.
Back in the 1990's, characters being gay or bisexual on television was a pioneering territory, and the characters often were peripheral or easily dispensed. Roseanne's 4th season disclosed the title character's loathed boss, Leon Carp, happened to be gay, and Roseanne still hated him. Not because of this development, as it softened her disdain of Leon. Rather, she detested his stiff, arrogant, upper-middle-class demeanor and he became the butt of his jokes. Mull never achieved contract status, but the character endured to the end, becoming Roseanne's love-to-hate business partner in her Landford Lunchbox. The fourth owner, Nancy Bartlett, was introduced in the 4th season as well as Arnie Thomas' wife. The following season, Arnie and Nancy split, and Nancy came out as bisexual.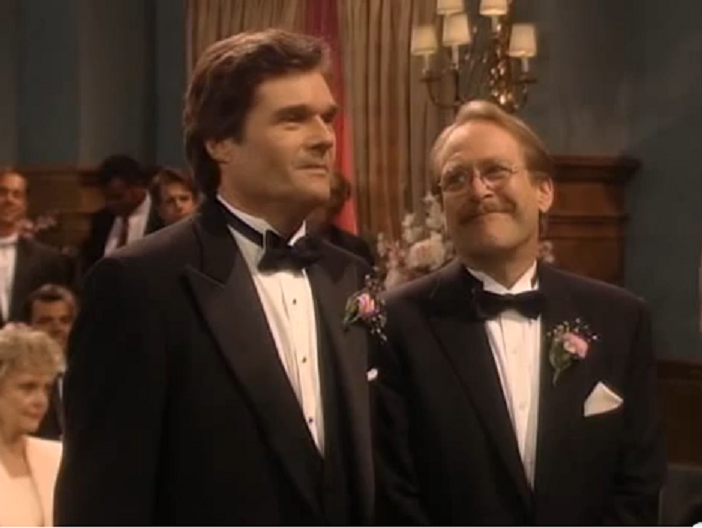 Characters such as Leon, Nancy, Scott and later Beverly held plenty of stereotypical traits, yet their problems and humor resembled those of their straight counterparts. Friendship spats, dating woes, and even Leon and Scott's gaudy gay wedding in 1995, a first for network television. The focus of the episode was not of the first gay marriage, but rather Leon's mother (a delightful cameo from June Lockhart) still processing the thought of her son taking a husband vs. a wife. Leave it to Roseanne to sell her enemy on the union:
Roseanne: "At least you're getting a wonderful addition to your family" (points to Mark, lighting his hand on fire) "That's my son-in-law."
Leon's Mother: (sincerely compassionate) "I'm so sorry".
And of course, Roseanne managed to push the controversy envelope in 1994 as the principle character receives a kiss from guest star Mariel Hemingway. The network threatened to pull the episode, and Barr held her course. After all, this was not the first time two ladies made out on the show, as Nancy and Marla (Bernhardt, Fairchild) crossed this line kissing under the mistletoe in Season 5. But the thought of a marquee star engaged in the same compromise? The network boldly placed a "Discretion is Advised" label on the episode. In 2017, two people of the same sex locking lips is just called Thursday night!
Do Boycotts Work?
People believe everyone needs to be heard on their soapbox. When people stand in opposition, much like 1MM is doing, they think calling boycotts or signing petitions will make things go their way. The sad fact is these movements seldom work. The 1977 launch of sitcom Soap was allegedly so racy, several affiliates refused to air the episode. The results? More people tuned into Soap to see what the buzz was about. And of course, Michigan housewife Terry Rakolta worked to disrobe an already shameless Married... With Children on then-unknown FOX. Rakolta indeed earned her share of publicity on news outlets, but her efforts backfired. The ratings more than doubled, and FOX gained affiliates, cementing its place in network television. And a few cartons of egg on Rakolta's face.
Of course, the controversy spans back decades into the soap world. In 1968, new ABC soap One Life to Live debuted a fair-skinned African-American character, Carla Grey (Ellen Holly). A young professional attempting to pass for white, Carla was involved in a love triangle between a white and black man as she lived a dual life. The story developments again prompted several affiliates not to air the new soap, which gained notice due to the controversial matter. Holly enjoyed a landmark role until 1985, and One Life to Live enjoyed a sturdy run until 2012. And as for an interracial couple locking lips on screen? Let's hope these folks have
Evidence points to boycotts and attention-grabbing headlines having a counter effect for folks seeking to start a "movement." Frankly, if 1MM wants to harm Roseanne's return, they should cease and be quiet. The series will likely land on the network's tepid Tuesday lineup, which sees The Middle bidding adieu after 9 seasons and freshman The Mayor registering network sitcom lows. ABC is gambling at Roseanne may have the same attraction power NBC revival Will and Grace had, a large gamble indeed. Boycotts only stir headlines, leading to shows' thriving success as it perks an audience's curiosity. And if anyone is resistant to controversy, it is the queen of crass herself, Roseanne!
Share this