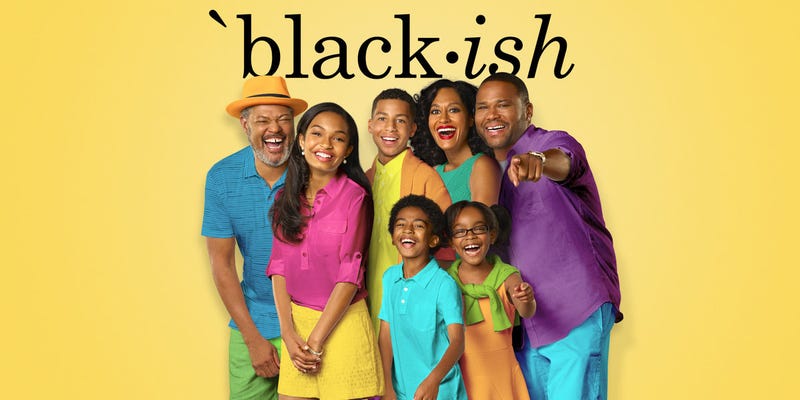 ABC's Wednesday comedy line-up saw concerning week-to-week-declines for the week ending November 4, 2018. 'Modern Family' and 'The Goldbergs' each lost three tenths in unrounded ratings from last week's finals, 'American Housewife' lost two tenths, and 'Single Parents' lost a tenth (0.14 unrounded).
Best of the Week:
NBC's 'Sunday Night Football' (7.47, 23.75 million) saw the largest week-to-gains, rising 67% from last week (4.48, 14.14 million). Over at CBS, '60 Minutes' (1.14, 9.86 million) was up 48%, 'Hawaii Five-0' (0.88, 7.88 million) rose 26%, and 'MacGyver' (0.78, 6.07 million) saw a 22% lift. The story of the week; however, was ABC Tuesday. All four comedies on the night grew week-to-week. 'Splitting Up Together' (0.88, 3.29 million) had the best gain of the night, up 31% from last week; just behind it was 'black-ish' (1.13, 4.22 million) at 25%, and 'The Kids Are Alright' (1.27, 5.39 million) at 20%. In raw unrounded ratings, each of the shows rose by 0.2. 'The Connors' (1.80, 7.83 million) rose only 3.5%, but was already pulling huge numbers. The week's other big gain belonged to the CW's 'Legacies' (0.37, 1.12 million) which ticked up 27%.
Worst of the Week:
ABC's Wednesday comedy block was polar opposite from its Tuesday comedy block. All four Wednesday comedies saw notable decreases from last week. Lead-off 'The Goldbergs' (0.99, 4.79 million) dropped 24% from last week to a new series-low - the first time it ever fell below a 1.0 in the demo. 'American Housewife' (0.87, 4.14 million) fell 20% and 'Modern Family' (1.22, 5.01 million) was down 18%, both to series-lows. 'Single Parents' (0.91, 3.65 million) lost only 13% week-to-week; however, it was still a new low for the young show. Ending the night was 'A Million Little Things' (0.79, 3.31 million) which was down 5% from last week, but narrowly avoided hitting a new low (current low is 0.77). Other notable declines include the CW's 'Black Lightning' (0.31, 972,000) which dropped 16% to a new low.
Stability:
A number of shows demonstrated remarkable week-to-week retention, averaging the same unrounded 18-49 rating this week as they did last week. On CBS Monday, comedy 'The Neighborhood' (1.14, 6.11 million) held last week's figures, and lead-out 'Happy Together' (0.86, 4.38 million) rose 0.01. On NBC, both 'Midnight, Texas' (0.39, 1.99 million) and 'Will & Grace' (0.85, 3.45 million) saw zero growth in the demo, as did ABC's 'The Rookie' (0.83, 4.53 million), FOX's 'The Resident' (0.98, 4.97 million), and the CW's 'Supergirl' (0.37, 1.23 million) & 'Legends of Tomorrow' (0.32, 943,000).
SHOW
A
18-49
F
18-49
M
18-49
A
18-34
A
25-54
Viewers
(millions)
20/20 (ABC)
0.45
0.6
0.3
0.2
0.6
2.587
60 Minutes (CBS)
1.14
1.1
1.2
0.6
1.7
9.859
9-1-1 (Fox)
1.38
1.6
1.1
0.8
1.8
5.635
A Million Little Things (ABC)
0.79
1.0
0.5
0.4
1.1
3.307
America's Funniest Videos (ABC)
0.82
0.9
0.7
0.4
1.2
4.961
American Housewife (ABC)
0.87
1.0
0.7
0.4
1.3
4.136
Arrow (CW)
0.39
0.4
0.4
0.3
0.5
1.146
Black Lightning (CW)
0.31
0.3
0.3
0.2
0.4
0.972
black-ish (ABC)
1.13
1.3
0.9
0.6
1.5
4.216
Blindspot (NBC)
0.42
0.5
0.3
0.2
0.6
2.428
Blue Bloods (CBS)
0.84
1.0
0.7
0.4
1.3
8.723
Bob's Burgers (Fox)
1.29
1.1
1.5
0.9
1.5
3.162
Bull (CBS)
0.88
1.0
0.7
0.3
1.4
7.234
Charmed (CW)
0.33
0.4
0.3
0.2
0.4
0.959
Chicago Fire (NBC)
1.21
1.5
0.9
0.7
1.7
7.974
Chicago Med (NBC)
1.09
1.3
0.8
0.6
1.5
7.775
Chicago PD (NBC)
1.08
1.3
0.9
0.6
1.4
6.952
Child Support (ABC)
0.48
0.7
0.3
0.3
0.6
2.250
Crazy Ex-Girlfriend (CW)
0.13
0.2
0.1
0.1
0.1
0.460
Criminal Minds (CBS)
0.71
0.8
0.6
0.3
1.1
4.413

Dancing With The Stars (ABC)




0.95
1.3
0.5
0.6
1.4
7.258
Dateline Friday (NBC)
0.51
0.7
0.3
0.2
0.8
2.934
Dynasty (CW)
0.15
0.2
0.1
0.1
0.2
0.545
Empire (Fox)
1.20
1.4
0.9
0.7
1.6
4.234
Family Guy (Fox)
1.11
0.9
1.3
0.8
1.3
2.604
FBI (CBS)
1.04
1.2
0.9
0.5
1.7
9.418
Fresh Off The Boat (ABC)
0.58
0.8
0.4
0.3
0.7
2.868
God Friended Me (CBS)
0.81
0.9
0.7
0.4
1.3
7.408
Grey's Anatomy (ABC)
1.56
2.3
0.8
1.1
2.0
6.715
Happy Together (CBS)
0.86
0.9
0.8
0.4
1.3
4.380
Hawaii Five-0 (CBS)
0.88
1.0
0.8
0.4
1.4
7.880
Hell's Kitchen (Fox)
0.70
0.8
0.6
0.4
0.9
2.501
How To Get Away w/ Murder (ABC)
0.75
1.1
0.4
0.6
0.9
2.867
I Feel Bad (NBC)
0.54
0.7
0.4
0.3
0.8
2.226
Last Man Standing (Fox)
1.17
1.2
1.1
0.7
1.8
6.112
Law & Order: SVU (NBC)
0.87
1.1
0.6
0.5
1.2
4.620
Legacies (CW)
0.37
0.5
0.3
0.3
0.5
1.120
Legends of Tomorrow (CW)
0.32
0.3
0.3
0.3
0.4
0.943
Lethal Weapon (Fox)
0.60
0.6
0.6
0.3
0.9
2.676
MacGyver (CBS)
0.78
0.8
0.7
0.4
1.1
6.066
Madam Secretary (CBS)
0.54
0.6
0.5
0.3
0.8
5.239
Magnum P.I. (CBS)
0.80
0.8
0.8
0.3
1.3
5.701
Mickey's 90th Spectacular (ABC)
1.01
1.2
0.9
0.6
1.3
4.595
Midnight, Texas (NBC)
0.39
0.5
0.3
0.2
0.6
1.987
Modern Family (ABC)
1.22
1.4
1.1
0.6
1.8
5.011
Mom (CBS)
1.16
1.4
0.9
0.4
2.0
7.903
Murphy Brown (CBS)
0.78
0.9
0.7
0.3
1.3
5.942
NCIS (CBS)
1.28
1.5
1.1
0.6
2.1
12.321
NCIS: Los Angeles (CBS)
0.73
0.8
0.7
0.4
1.2
7.046
NCIS: New Orleans (CBS)
0.89
0.9
0.8
0.4
1.4
7.564
New Amsterdam (NBC)
1.26
1.8
0.8
0.8
1.7
6.664
Rel (Fox)
0.59
0.5
0.6
0.4
0.7
1.641
S.W.A.T. (CBS)
0.66
0.7
0.6
0.4
1.1
5.219
SEAL Team (CBS)
0.81
0.9
0.8
0.3
1.3
5.335
Single Parents (ABC)
0.91
1.0
0.8
0.4
1.3
3.654
Speechless (ABC)
0.53
0.7
0.4
0.3
0.7
2.435
Splitting Up Together (ABC)
0.88
1.1
0.7
0.4
1.2
3.283
Star (Fox)
0.92
1.2
0.7
0.6
1.2
3.279
Station 19 (ABC)
0.93
1.4
0.5
0.6
1.3
4.897
Sunday Night Football (NBC)
7.47
5.2
9.7
5.8
8.7
23.747

Supergirl (CW)

0.37
0.4
0.3
0.2
0.4
1.230
Supernatural (CW)
0.44
0.5
0.4
0.3
0.6
1.453
Superstore (NBC)
0.86
1.0
0.7
0.6
1.1
3.173
Survivor (CBS)
1.32
1.4
1.2
0.7
2.0
7.069
The Alec Baldwin Show (ABC)
0.29
0.3
0.2
0.2
0.4
1.469
The Big Bang Theory (CBS)
2.13
2.4
1.8
0.9
3.5
12.649
The Conners (ABC)
1.80
2.0
1.5
0.9
2.5
7.828
The Cool Kids (Fox)
0.87
1.0
0.8
0.4
1.4
4.273
The Flash (CW)
0.67
0.6
0.8
0.5
0.8
1.751
The Gifted (Fox)
0.59
0.6
0.6
0.4
0.8
1.965
The Goldbergs (ABC)
0.99
1.1
0.9
0.4
1.5
4.786
The Good Doctor (ABC)
1.02
1.3
0.7
0.6
1.4
6.789
The Good Place (NBC)
0.77
0.9
0.6
0.5
1.0
2.675
The Kids Are Alright (ABC)
1.27
1.4
1.1
0.7
1.8
5.389
The Neighborhood (CBS)
1.14
1.1
1.1
0.5
1.7
6.106
The Resident (Fox)
0.98
1.1
0.8
0.5
1.4
4.971
The Rookie (ABC)
0.83
1.0
0.7
0.4
1.2
4.529
The Simpsons (Fox)
1.95
1.4
2.5
1.4
2.3
5.085

The Voice-Monday (NBC)

1.79
2.2
1.3
1.0
2.5
9.461
The Voice-Tuesday (NBC)
1.65
2.1
1.2
0.9
2.4
9.004
This Is Us (NBC)
2.11
2.9
1.3
1.4
2.8
8.887
Thursday Night Football (FOX)
3.26
2.3
4.2
2.3
4.0
11.097
Wicked Halloween (NBC)
0.95
1.2
0.7
0.7
1.1
3.754
Will & Grace (NBC)
0.85
1.1
0.6
0.4
1.3
3.452
Young Sheldon (CBS)
1.67
1.9
1.4
0.7
2.8
11.075
Live+same day data, Nielsen Media Research
Share this