Written by Oh Smoo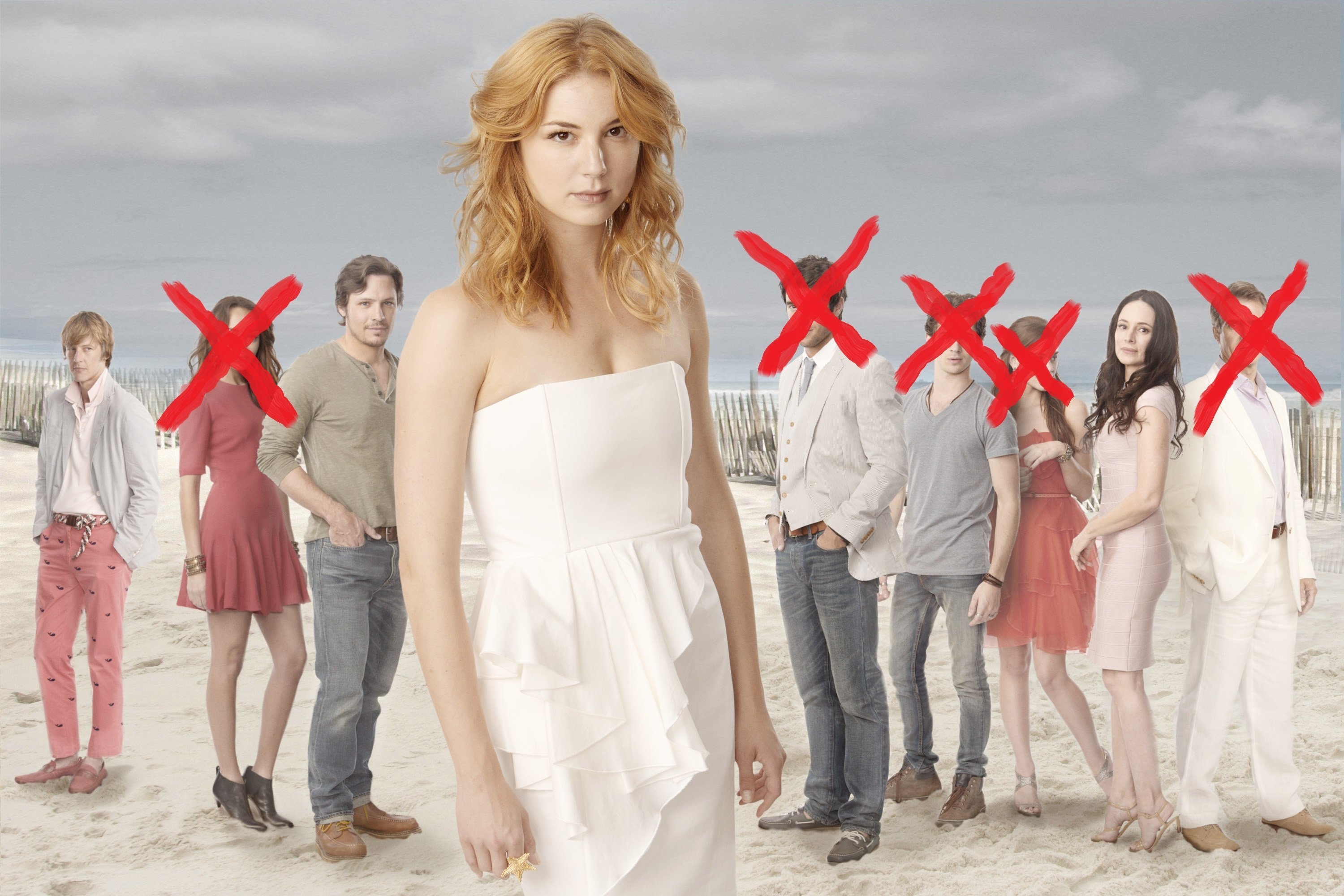 Revenge was one of two shows I eagerly awaited the arrival of when the 2011-12 season began, with the other being CBS' 2 Broke Girls. I was pleased to see the show not only the show had beat the
Wednesday 10pm
curse, but was also tantalizing and seemed to be holding its own against the competition. My favorite episode aside from the Season 3 finale was 1x5, Guilt, which Lydia Davis met her "demise" off the top of the roof, and Daniel's beautiful seduction of Emily. This episode sped up the plots, and the critics noticed. It also began a worthy trend of humor as Lydia survived, emerging merely with a broken nail. Very few could criticize the first season, which set up all of the classic elements.
You had a soapy anti-heroine caught in a love triangle between Daniel and Jack, lower-class foil in "Amanda" showing up and taking her place in the Hamptons, Victoria and Conrad's sham marriage falling apart, psychotic Tyler terrorizing Emily and the Graysons, and Declan and Charlotte's precursor to a Romeo and Juliet tragedy. I knew from Charlotte's approximate age she was David's child, and another layer developed in the series. Season 1 ended, and ABC realized they had a cash cow, moving it to
Sunday at 9pm
.
The move to Sundays was warranted by ABC, which eroded to 4th place as Revenge was soaring. Mike Kelley dropped the ball. Everyone was buzzing about Revenge, and he launched the second greatest flaw in the plot, which was the Initiative. I enjoyed the back stories behind the characters, particularly Victoria's, which displayed her vulnerabilities and how she became so damaged and venomous. Other than that, this was a deplorable season, and the show's drop from the season 2 premiere t a 3.2 demo to a (gulp) 1.4 showed. Season 3 had a better semblance of the show's freshman year, but the damage was done. No one was buzzing about the show, and only loyal fans tuned in.
Then, showrunner Sunil Nayer rewarded us with the season 3 finale, which Emily and fans were rewarded as she finally took down Conrad and exposed the Graysons. FINALLY, the show had its last opportunity to be buzzworthy again. Instead, the show continued its erosion, losing not only viewers, but Crista B. Allen and Josh Bowman. In my viewing opinion, the final nail in the coffin was Daniel's shooting. We all stated what should have happened during the show's run, and I'll focus on how the show could have given us a memorable 4th season.
If they really wanted to resurrect David Clarke, why not bring him back with a twist? Emily's whole vision was she defended her "innocent" father. How would it have unraveled her if she slowly discovered David was the grand villain, whom Conrad framed as he recognized the evil David was capable of.
Instead of some forgettable day player shooting Daniel, how tragic would it have been if David secretly shot Daniel, insinuating "Malcolm Black" did it? Then the real drama and tragedy would have unfolded, as David targeted Victoria while using Emily as his pawn. Then we could have cued back stories, which we discovered Victoria's fright when a young Emily tried to poison her wine. Victoria resulted in her cruel confinement of a young Emily, fearing the girl would turn out to be as depraved and unhinged as her mother Kara.
I would have kept Charlotte in the fold, as she could have been David's one-true soft spot. The season would have ended with Grayson Manor exploding with Victoria inside, and Emily is arrested for her murder. Season 5, even a bridged 11-13 episode arc, would see Emily wrongfully convicted and sent to prison. For a good 5 episodes, we believe Victoria is dead until we discover Nolan rescued her from the
fiery wreck and has been hiding the badly burned and disfigured socialite. Nolan's hidden entourage features Natalie, Patrick, and most shocking of all, Conrad Grayson, who is sporting a disguise and working as a prison guard in Emily's prison. Back in the Hamptons, Dvid's reign of villainy continues.
Charlotte has returned to be closer to her father, blind to him using her to further his reign of evil. Margaux remains an adversary, convinced David is plotting something. Louise, previously s een as fragile and unstable, has been working with David the whole time. She helped plot Conrad and Victoria's demises, and has taken her place in David's life as his new woman. He uses her to target Nolan for his next fall, and Jack has fled the Hamptons (while working secretly with Nolan to free Emily). Little did David know Louise was a former patient with Kara, who returns determined to seek revenge against David for his wrongful treatment of Emily. As the finale culminates, Conrad and Nolan plan to take down David, but other drama brews. Charlotte has found love with Ben and prepares to leave the Hamptons. Louise has grown unhinged and discovers Nolan's hidden entourage of living dead, and is preparing to tell David, who went to see Charlotte and bid her adieu. A storm paralyzes the power with Louise and Charlotte standing in the darkened room. Conrad prepares to shoot Louise, only to tragically kill Charlotte. The power returns, and the entire cast stands in horror as the one true innocent in the Hamptons tragically dies.
The finale features a bloodbath with everyone hungry for murder. The episode begins with Louise and David marrying, deciding to leave and start anew. As he is now her rightful heir to her fortune, he recruits Margaux to off Louise by locking her in the steam room, taking her final revenge for trying to kill her the season before. As she enters her towncar to collect David's payment, she is horrified to discover Ben driving her car, seeing her as the culprit for Charlotte's shooting. He drives their car into the ocean, as the horrified Hamptonites watch the coverage on the news. David next targets Nolan, and he awakens on his yacht, tied to Jack and prepared to sink on the doomed boat, with audience unaware of their fates.
Emily realizes David is cleaning house and tries to whisk Kara away, only to be trapped in her cottage as Victoria has set the place ablaze. In a final heroic act, Kara allows Emily to escape, perishing in the fire. Emily realizes she must confront Victoria and David for one final showdown and arranges so at "Amanda's" grave, where she has dug two more graves. The final conflict ensues, and Emily and Victoria kill David. Then Victoria shoots Emily, reminding her foe that she deserves to be set free as she was blinded by Revenge. Seeing as she has nothing left to live for, Victoria shoots herself in the head, falling into the open grave. Emily lays dying, with the camera fading out into new coverage of the bloodbaths and crime sprees plaguing the once elite H amptons.
The final scenes wrap up the show, with Emily now residing on St. Helena Island in the south Atlantic under a new identity. The audience happily discovers Jack, Stevie, Patrick and Nolan have joined her, and the three reflect on that fateful night. Conrad tried to kill Jack and Nolan on the yacht, but had a change of heart, realizing his actions harmed too many innocent people. He also rescued Emily from her death, and rounded up the three and offered them the chance to start a new life under banishment, or death. He has siphoned the remaining portions of David and Emily's money, and has fled into parts
unknown. However, he left the survivors a small fortune in agreement they never return to the Hamptons, and brings Stevie to St. Helena to right the wrongs of their marriage.
If only Revenge would have played out this way instead of a devastating and disappointing 4th season, ending
tonight
. I will be watching
tonight
, and hope you do too as this landmark series ends.
Share this