CBS has been known for their lack of diversity and lackluster programs but back in 2016, I felt like all of that was going to change with one of their latest sitcoms, Superior Donuts.
CBS
On paper, Superior Donuts looked really different from all the other CBS pilots at the time. It had an attractive setting (Donuts!), writers who previously worked on Community and most of all, it featured a cast consisting of sitcom legends Katey Sagal and Judd Hirsch, up and coming comedian Jermaine Fowler and lastly, Anna Baryshnikov.
After several months in development, Superior Donuts finally began airing in 2017 and it was... ok. Despite all the positive aspects I listed above, the show's main problem was that it wasn't funny. The jokes felt like they were tailor-made for the standard CBS audience and no one else. But the reason I still watch the show is because it too shows the people in the diner as a family and many of the characters do have good chemistry with each other. It also tries to show how difficult it is for an African American person in America though I do believe other shows have done a better job of conveying this difficulty.
By now you might be wondering "so what about Anna?" Well, that's where I felt like the show was really being disrespectful. See, Anna played Maya, a university student who frequented the donut shop. While she wasn't too important in most episodes, she was still considered to be a part of the "family". But when Season 2 premiered back in October, she along with fellow cast member Darren Sills-Evans were gone.While Darren Sills-Evans' character was written out by saying that his character, a cop had been transferred to another police station, No one was talking about Maya nor were they acknowledging her absence. It was as if she had never existed.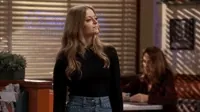 Giphy
In her place was now a new character played by Diane Guerrero, named Sophia. In contrast to Maya, Sophia is actually more active in storylines and added more diversity to the cast by constantly expressing her views and opinions. Diane was a fine addition to the cast but I never forgot about Anna. Not because she was a big part of the show or anything, but because of how her character was treated. When Erin Hayes was written out of Kevin Can Wait, there was quite a bit of publicity and uproar but none of that happened with Anna. Anna may not have been too important but she did not deserve to be treated this way. CBS has been known for their unfair treatment of female actors and this is further proof that they didn't learn their lesson. C'mon CBS, get yourself together.
Superior Donuts hasn't been doing too well lately. Its ratings have fallen to a mere 0.7 per episode and are now listed as likely to be canceled on our website's
Renew/Cancel Index
. I'm really not surprised by this considering how uninteresting the show has felt lately. I think the last time I actually enjoyed the show was back in February and since then it's quality felt downhill for me. Anna is probably lucky to no longer be associated with the show. Heck, every cast member deserves better than this show. All I know is that whether or not it gets canceled this month, I am done with Superior Donuts.
Share this